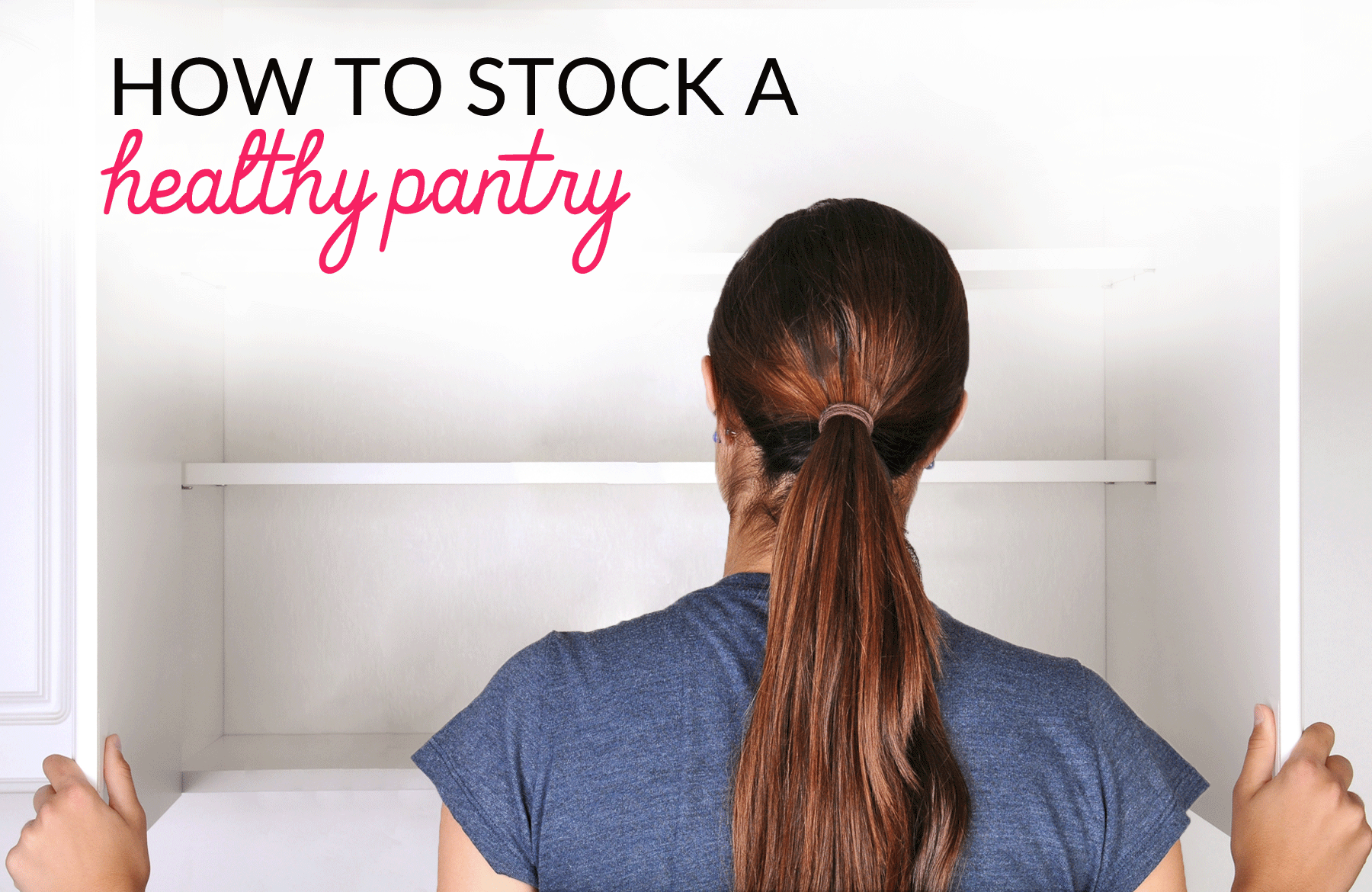 Stocking your pantry with nutrient-dense ingredients and food is essential for keeping your body nourished, so it can keep you healthy and lookin' good!
In this day and age, we're all SO busy, and by the time we get home at the end of a long day the last thing we want to do is cook.
I used to get home from the gym after work and RAID my pantry, shoving my face with any sweet or salty/crunchy junky snack food I had on hand that I knew would help ease my hunger pangs ASAP.
I was pretty much setting myself up for a snack-attack binge by:
not eating enough during the day
failing to think through my meals ahead of time (& prepping)
keeping lots of not-so-nutritious snack foods in my pantry, front and center
not having ingredients I'd need to whip something up quick on-hand
What I should have done instead:
Set myself up for success.
Having an organized and well-stocked pantry of nutrient-dense items on hand will make it SOOOO much easier for you to eat healthfully!
It does something to your mindset too – you will actually get excited about cooking and eating nutrient-packed food when you open your pantry and see beautiful organization…instead of a scary mess of packages everywhere.
Plus, it'll save you time and money: you'll quickly and easily know what you already have for those weekly grocery shopping inventories.
Here's how you do it (+ a checklist you can download at the end!):
Step 1: Prepare & Purge
It's time to set yourself up for success, and that starts with giving yourself a clean slate. Make the process fun or you'll dread doing it, and keep putting it off!
How can you make cleaning out your pantry fun for you? What is your fun factor?
Maybe put on some music or your favorite podcast? Pour a green juice or glass of wine? Slip into your favorite comfy clothes?
Next, grab a box and a trash bag, and start cleaning!
For every item in your pantry, pick it up and put it in 1 of 3 places:
Unopened food that is not expired that you know you'll never eat? Put in box to donate
Unopened food that is not expired that you do want to someday eat? Put it on the counter (or floor near you)
Unopened food that is expired or opened that you know you'll never eat? Throw in trash
Step 2: Get Organized
Now that you have an empty, sad-looking pantry, it's time to clean it up and get organized!
Wipe down shelves, maybe even put a liner in. Gather any storage containers or organizing bins you'd like to use to help keep things neat and easy to find.
Round up rubber bands and fun chip clips to ensure food freshness. Maybe even get some sticky labels.
Step 3: Stock It Up
Let's talk FOOD! You now have a beautifully empty pantry, so it's time to stock it up with goodies! Here are some overarching tips:
Think about foods and ingredients you use often and store together
Put things you/your kids use often somewhere you/your kids can reach them easily
Opt for organic and non-GMO when possible
Think through types of food you want in there: do you want chips and cookies in the house? If so, do you want them front and center so you see them whenever you open your pantry, or maybe hiding in the back – outta sight outta mind?
Below I've outlined a bunch of foods and ingredients that I think (and personally have on-hand – all links* included are brands I use/love for easy ordering) are super helpful to have in your pantry to help with delicious and nutritious eating with ease.
I grocery shop for these items at Costco, Amazon, Vitacost, and locally at Harris Teeter – depending on where I can get the best deal!
NUTS & SEEDS/BUTTERS:
Raw nuts and seeds are great to have on hand for easy snacking and making protein balls, but it's important to keep in mind because nuts contain a high percentage of oil that becomes rancid faster when stored at room temp.
If you'll eat them within a month, store them in a sealed container (like a mason jar or Oxo Pop-Top) in your pantry, otherwise, keep them in the fridge up to 3 months or freezer up to 6 months. I keep backup nut/seed butters and small packets (or these) in my pantry so I never run out, and store any I've opened in the fridge.
NUTS: almonds, cashews, Brazil nuts, hazelnuts, pecans, pine nuts, walnuts
SEEDS: chia seeds (black or white), flax seeds, hemp seeds, pumpkin seeds, sunflower seeds, sesame seeds (white or black)
WHOLE GRAINS & POWDERS:
These complex carbs are absolutely a staple in my life to help keep up my energy, keep me feeling full for a long time, and curb my cravings. Some of my favorites: brown rice, lentils, quinoa, millet, brown rice pasta, and oats. If you're a cereal eater, I'd classify that in this category too, same with bread and wraps.
For powders, that can include the protein variety, like: protein powder and collagen peptides, organic tea and coffee or coffee substitute (I LOVE Teeccino), and the mega-nutrient-dense powders, like: powdered greens, matcha, and adaptogens like maca or ashwagandha.
OILS/VINEGARS/FLAVORINGS:
No dish is complete without some flavor! Oils are super key because of their healthy fat content that keep our metabolism revved up, help us absorb nutrients, and balance our hormones.
When cooking, it's great to use a high-heat oil like coconut oil or avocado oil, or my favorite: ghee. For salad dressing and sauces I love using olive oil (or you can go fancy and use a flavor infused oil, like from Pour Olive in Charlotte!). My go-to vinegars are apple cider vinegar, brown rice vinegar, wine vinegar, and mirin.
For other miscellaneous flavorings, a low sodium soy sauce or coconut aminos (the soy-free version of soy sauce basically, made from fermented coconut), I love this multi-pack of products, chicken broth (for soups and sauces), nutritional yeast (if you love cheese, but it doesn't love you back, this is a MUST to make dairy-free cheesy recipes like this or this), mustard (great 3-pack of flavors for dressings and sauces), Frank's red hot sauce, sesame oil, sea salt, and last but absolutely not least: SPICES! There are ALL kinds of brands of spices, but I personally look for organic varieties. Spice blends make for a great time-saving shortcut!
SHORTCUT CANNED/JARRED:
Before I dive into my personal go-to staples in this category – I want to point out for any canned item you buy, if there are multiple options, look for one that is labeled with having a BPA-free liner. The best thing to get canned is BEANS! Talk about a mega shortcut. Stock up whenever they're on sale. Pasta sauce is another great shortcut, but always look on the label to make sure there aren't a lot of added ingredients you've never heard of…or added sugar.
I only really ever get 3 other things from cans: diced tomatoes, tongol tuna (less mercury than traditional tuna), and full-fat coconut milk (for making sauces, smoothies, dressings, creamy soups, homemade ice cream, and THIS!). From a jar, salsa is good to have on-hand for in a pinch flavor, relish (make sure yours doesn't contain artificial dyes), and roasted red peppers for salad or making a dressing or sauce. Having lemon/lime juice on-hand helps add great flavor to any meal if you don't have fresh ones around.
Pre-made bottled sauces and dressings are generally a big staple for people, so my best advice when picking which you'll buy: opt for organic when possible, ignore any advertisement you see on the front and instead read the list of ingredients (if you can't pronounce something, put it back…if you see an artificial sweetener, put it back), avoid things labeled 'sugar-free' and 'fat-free,' and look out for sugar hiding – for ever 4g of sugar you see, that's 1 teaspoon of sugar.
CONVENIENCE SNACKS:
Not exactly loaded with nutrients, but some things are better options than others out there! My favorite things to have on-hand to pair with yummy dips or nutbutters are Mary's Gone Crackers, rice cake thins, sea salt rice crackers, le pain flats, brown rice chips, and organic corn chips (organic is key here, nearly 88% of corn grown in the US is genetically modified).
Some other grab & go options: bars (like larabar, go macro, square bars, food bar, Garden of Life, tosi, Tanka bar), oatmeal pouches, granola, plantain chips, kale chips, crunchy chickpeas, popcorn, freeze dried or dehydrated fruit, and of course nuts/seeds mixed together with dried fruit like raisins for a homemade trailmix. For kids: MySuperCookies, Happy Tot Superfood Pouches (veggie/fruit puree), Orgain Shake, Plum Kids Shredz Veggie/Fruit Snacks, Happy Baby Superfood Munchies.
You can even pre-bag some of these in snack-sized zip loc bags or silicone containers for easier grab and go access.
SWEET TREATS:
I'm a HUGE fan of having ingredients on-hand to make sweet treats myself instead of getting a pre-made ones from the store because I'm in control of what and how much of ingredients go into it. If I want to cut back on sugar for example, I may do half sugar, half stevia. Some of my go-to ingredients I always have on hand to make desserts I LOVE include: local honey (I get at the farmer's market), pure maple syrup, vanilla extract, Medjool dates, date crumbles, coconut sugar, stevia, cacao powder (and nibs or chocolate chips), shredded coconut, almond meal, coconut flour, and oats.
For pre-made, you can't beat Hail Merry Chocolate Tarts, Nada Moo Ice Cream (ok I know that can't be stored in the pantry!), and Justin's Peanut Butter Cups.
Here are some of my FAVORITE dessert recipes to make with these ingredients:
Raw Vegan Cheesecakes
Avocado Chocolate Pudding
Chocolate Crunch Protein Bar
Chocolate Tart
Raw Cookie Dough Bites
Peanut-Free Peanut Butter Cups
Date Nut Butter Poppers (GREAT snack or quick filling sweet treat)
Fudgesicles
Matcha Mint Chip Bites
Chocolate Chip Cookies (scroll down in this post for the recipe)
Raw Chocolate Brownie Bites
3 Ingredient Chocolate Bar

*This post contains affiliate links, which means that if you click on one of the product links, I'll receive a small commission