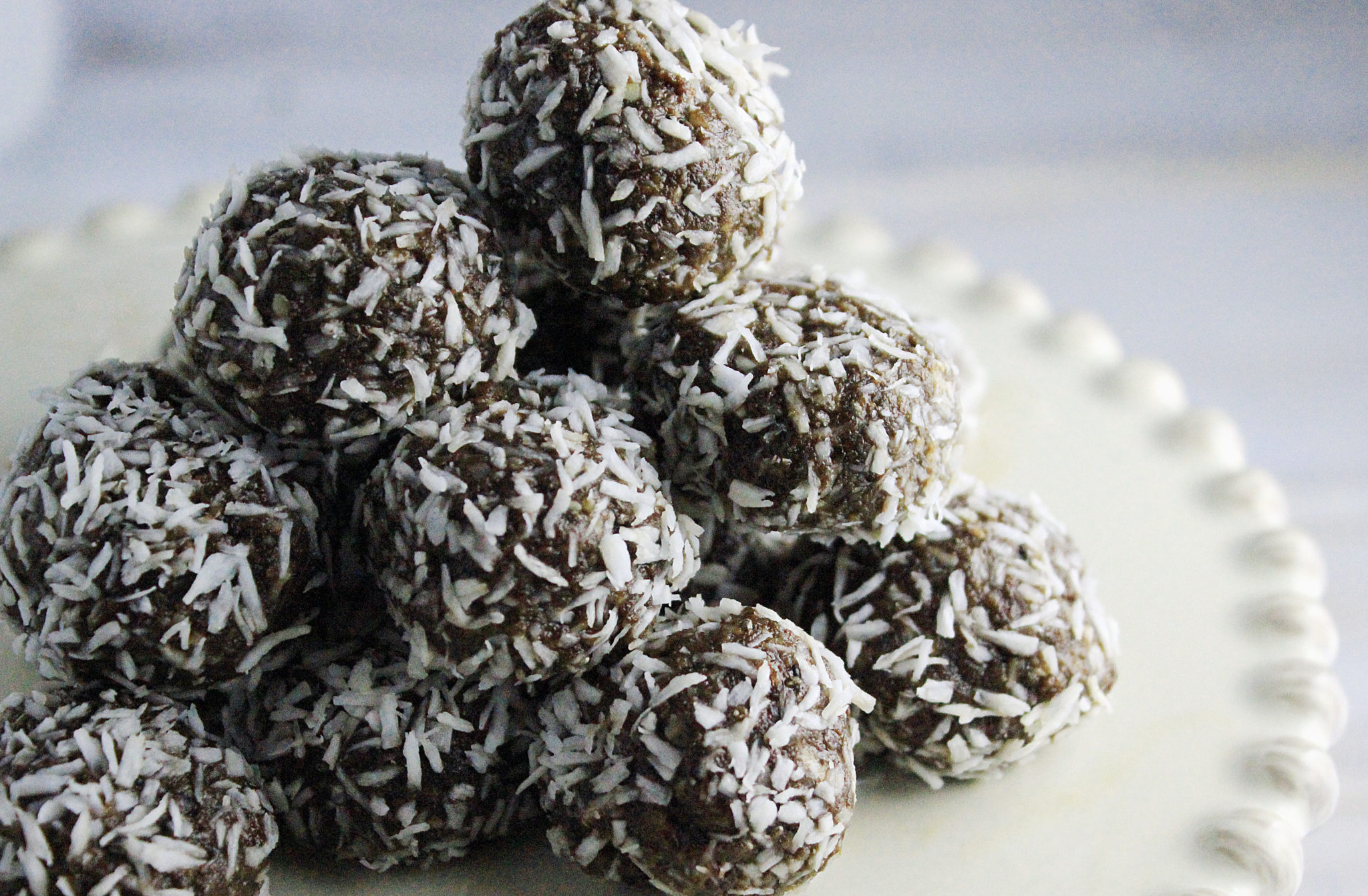 As I confessed in my previous 3-ingredient chocolate bar post, I have an obsession with chocolate. In order to keep it under control, I set a rule for myself about a year ago where the only chocolate I let myself have at home, I had to make myself. This way, I couldn't just go to the pantry and eat it by the handful, and I knew it wasn't the processed kind loaded with sugar, soy, and who knows what else in some types. It's been working great!!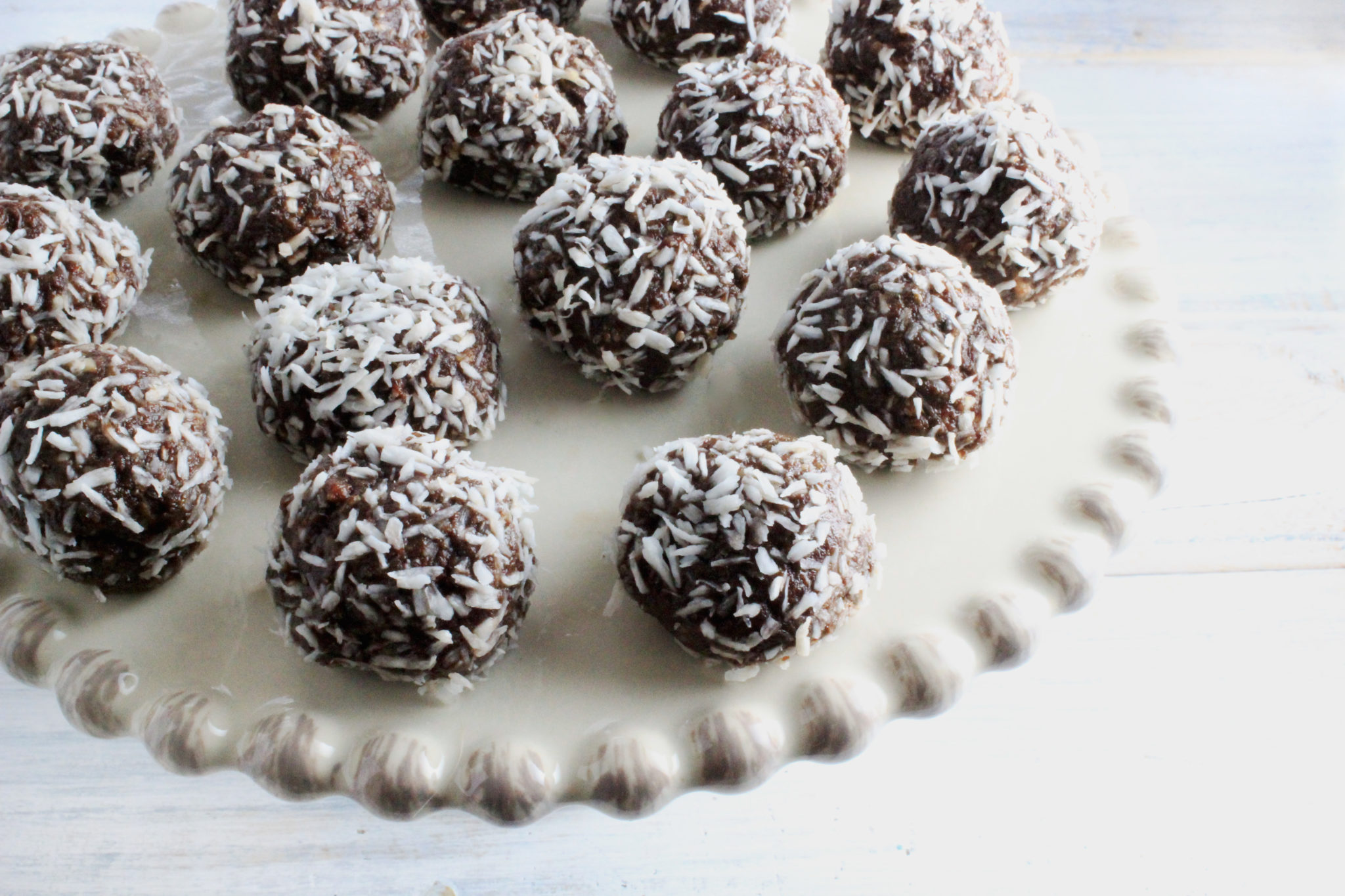 These raw coconut brownie bites are one of my favorite things to make. Not only does it completely satisfy my chocolate cravings, but it also gives my body tons of great nutrients. The walnuts in the recipe help to fill me up with their protein, healthy fats, and fiber, while also giving me powerful anti-oxidants and omega-3's.
The dates in the recipe are also nutrient dense, and their fiber makes them easy to digest which allows your body to make full use of their goodness! Their potassium helps control your blood pressure, and they contain vitamins A and K which maintain healthy skin and eyes, fight infection, and metabolize your bones.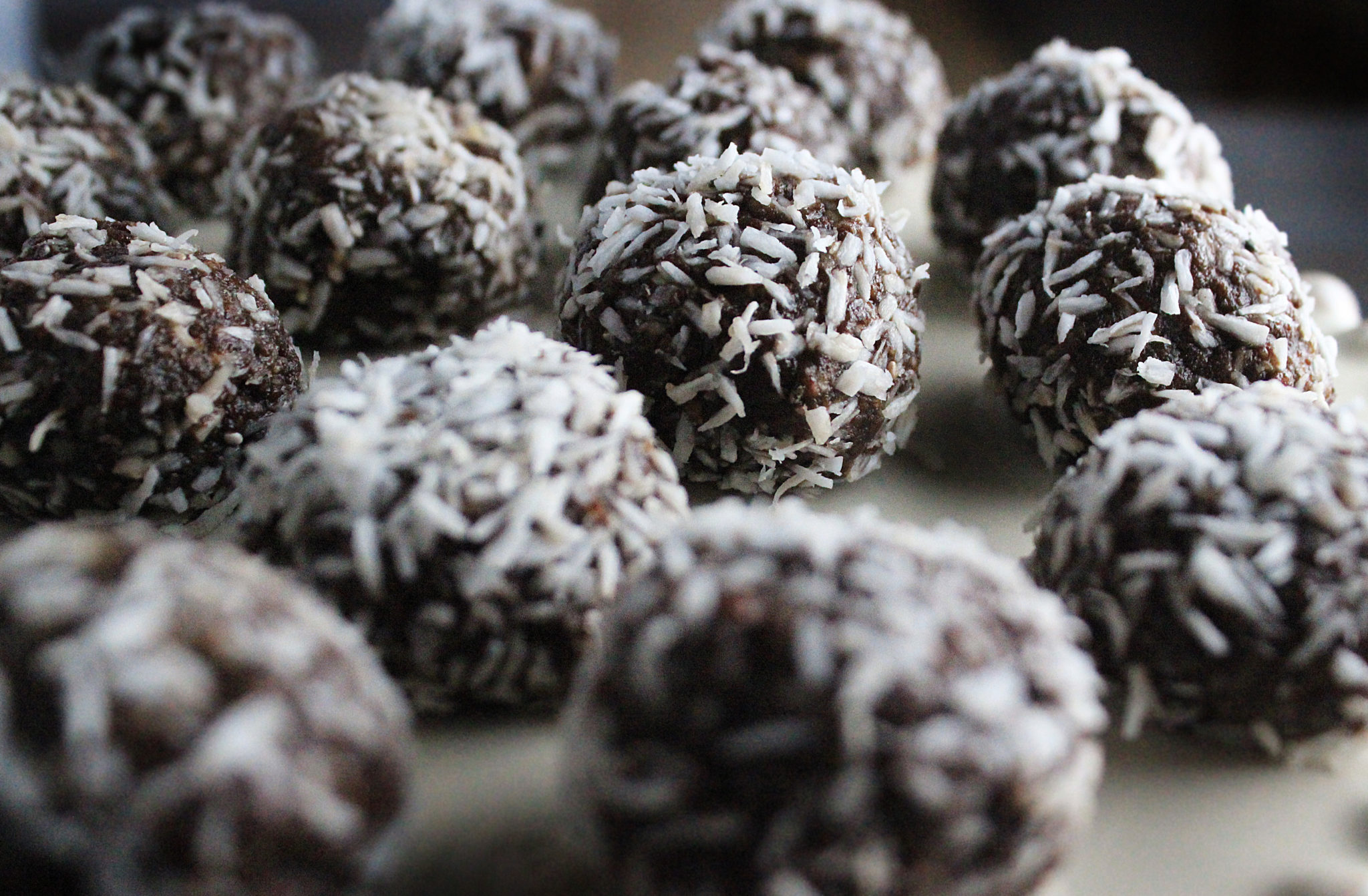 In addition to making a great healthy dessert or afternoon snack, they also make a perfect gift for the holiday's or a dessert to bring to a party. One of my best friends recently had a birthday and I mailed her a bunch of these 🙂 They held up really well even days after I had made them.
To make them, just blend everything all of the ingredients (except the coconut), and then roll the 'dough' into bite-size balls. I usually use a 1-tablespoon ice cream scoop to measure them out and shape them with my hands (but you can make them whatever size you'd like!). Once they have been rolled into balls, just roll them in dried coconut and store in the refrigerator on parchment paper.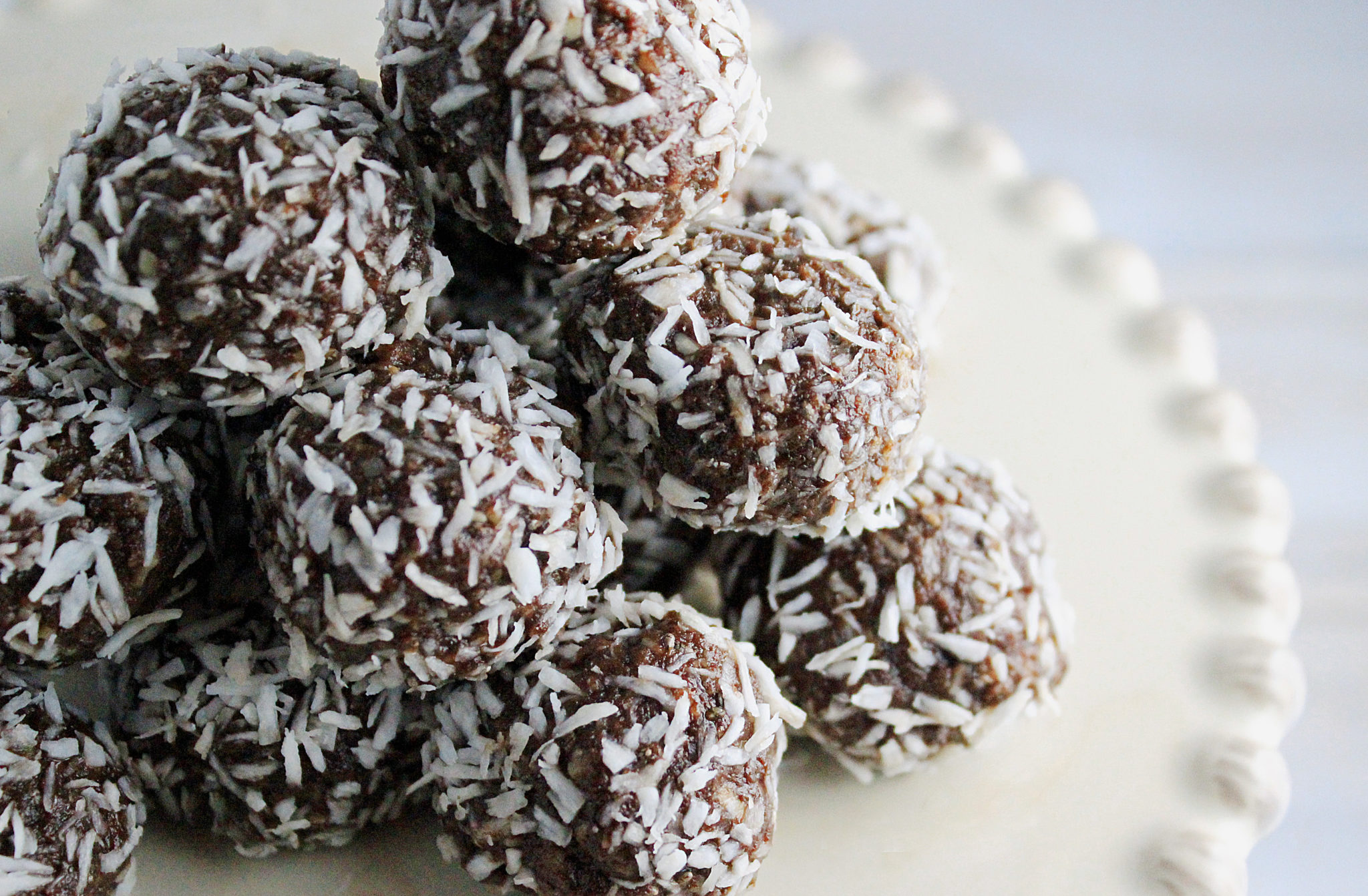 Raw Chocolate Brownie Bites (Grain-Free)
2014-11-23 15:09:37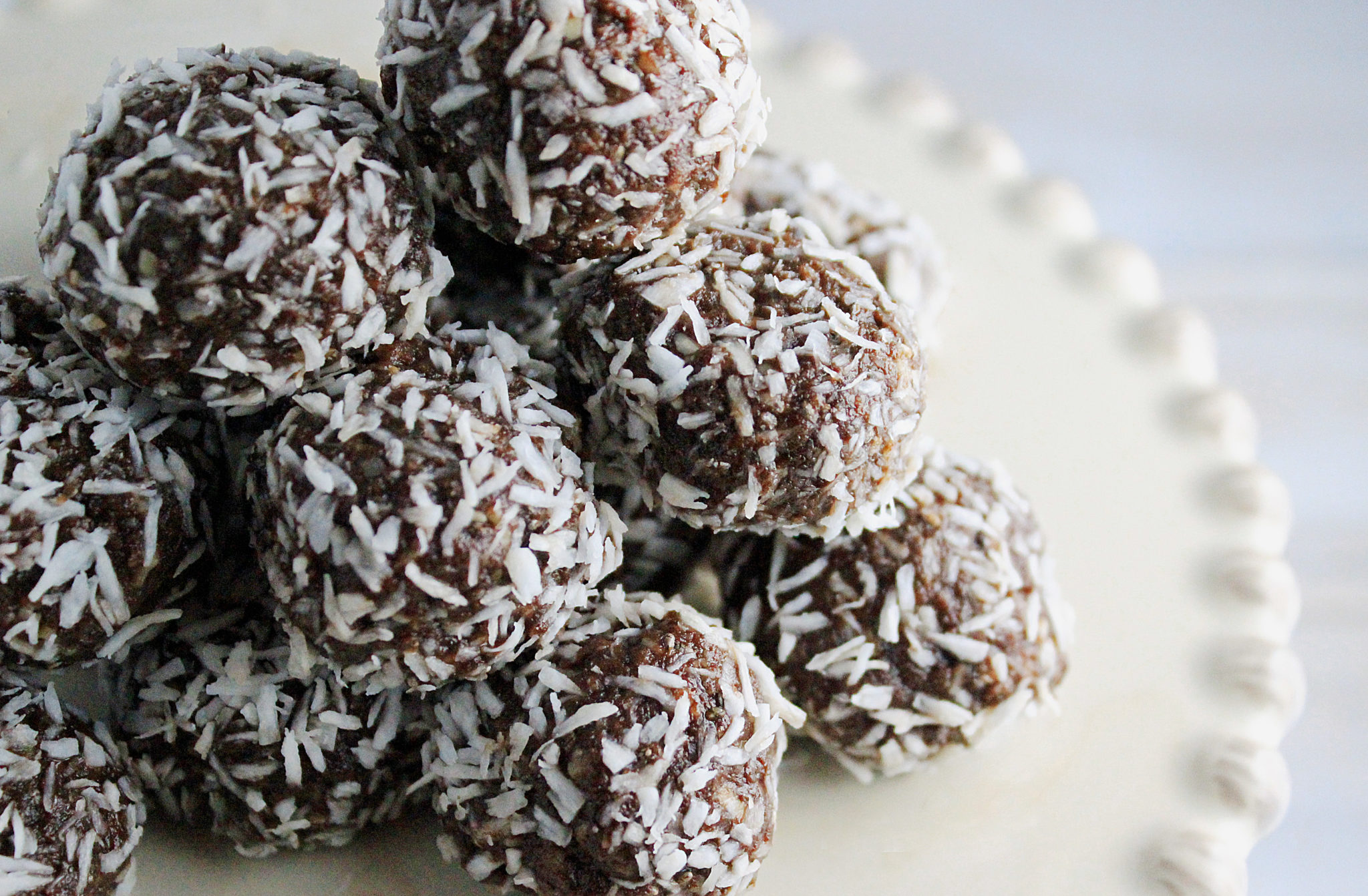 Gluten-free, dairy free, soy free, paleo, vegetarian, vegan
Ingredients
1 cup organic walnuts
3/4 cup Medjool dates, pitted
1/4 cup cacao powder
1 teaspoon coconut oil
Dash vanilla extract
Dash ground cinnamon
Pinch sea salt
Optional: 2 teaspoons chia seeds
Optional: 2 teaspoons ground flax seeds
1/4-1/2 cup unsweetened shredded coconut (for rolling)
Instructions
In a food processor, add the walnuts and process until they break down into a crumbly mixture.
Next, add all remaining ingredients except the shredded coconut, and process again until a sticky, uniform dough is formed. It will look smooth and shiny.
Using a 1-tablespoon measure or ice cream scoop, scoop out the batter out of the food processor and use your hands to roll into bite-sized balls. Place them on a parchment paper lined large plate or cookie sheet.
Pour the coconut onto a plate. Once all of the bites have been formed, roll each one in the coconut, pressing lightly so it sticks, then put the ball back on the parchment paper.
Store the balls in an air tight container in the refrigerator.
Notes
You can also roll the bites in other toppings, like chocolate chips or chopped nuts
If you don't have walnuts on hand, other nuts like almonds work well too!
Healthy Eaton https://healthyeaton.com/