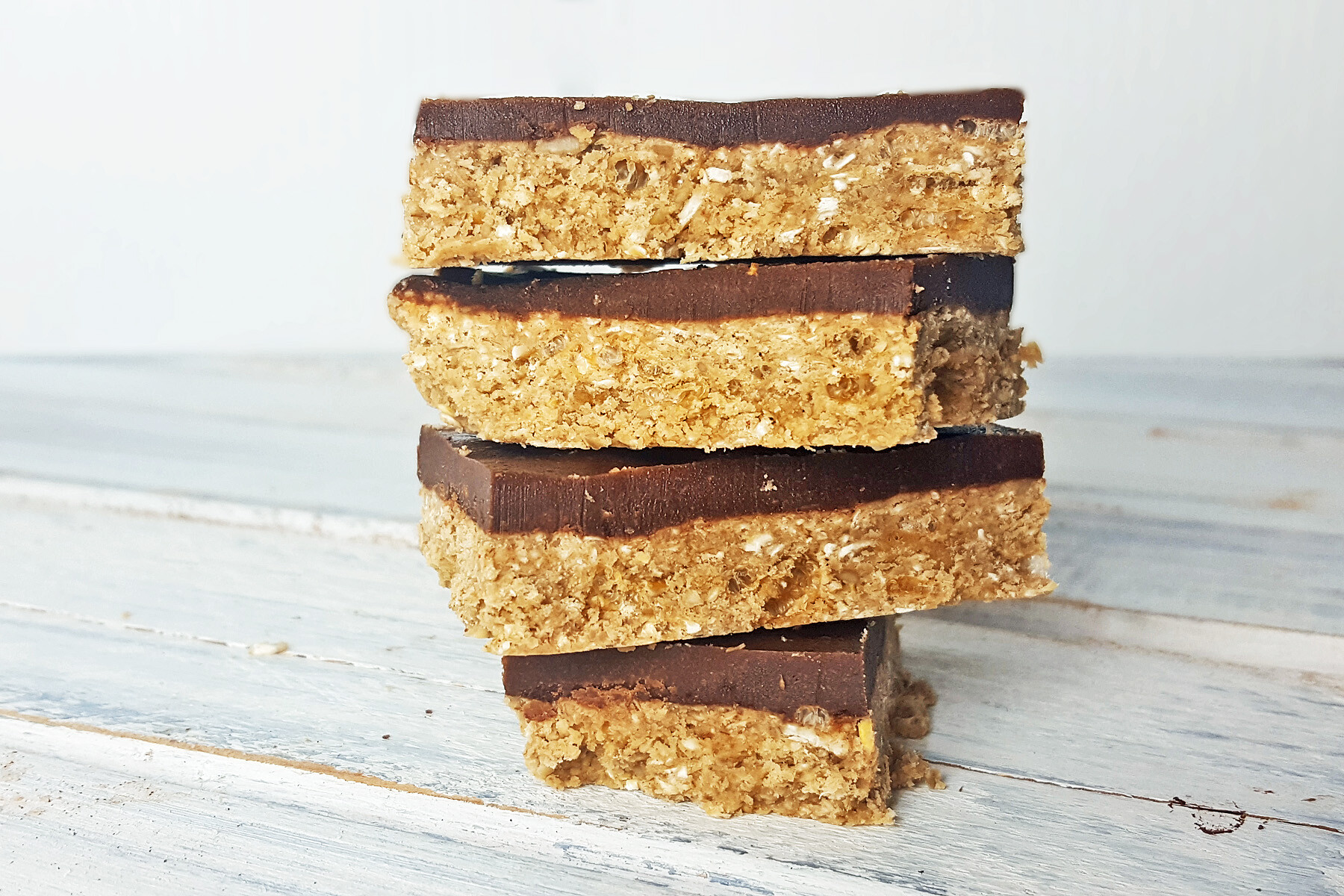 Get excited! You are going to LOVE these raw, no-bake chocolate crunch protein bars. Put it this way, I made them last week and when my dad came over, I handed him a bar. I watched him take that first bite and saw his face immediately light up like a kid on Christmas morning, as he said "WOW!! I need this recipe!!"
Not only are the bars super tasty, but they're made with some deliciously nutritious ingredients – one of which is a seed-butter from 88 Acres.
Everything they make is handcrafted in New England in small batches, using simple ingredients (free of the most common food allergens – like gluten, dairy, soy, nuts) and are designed for everybody to enjoy.
My sister-in-law Stacey first told me about them, and as soon as I looked over the site I was DYING to try their products!
Luckily for me (and you – you'll get a bunch of recipes!), they sent me some of their products to try: some flavored sunflower seed butters and bars.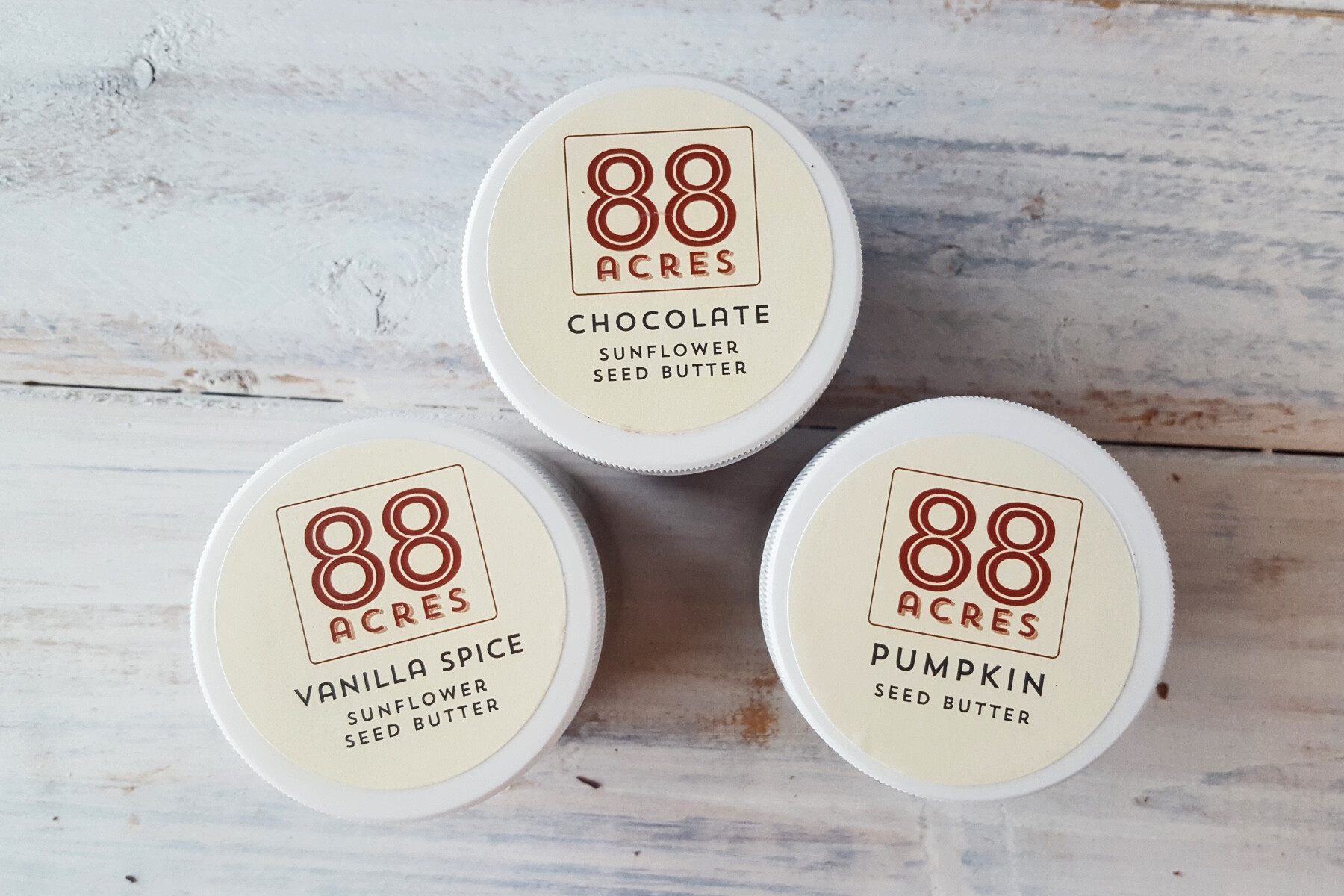 If you've been following my blog for a little while, you probably know I'm not a fan of peanuts…and LOVE sunflower seed butter as a healthy swap.
Peanuts are actually not nuts at all, they are legumes. They are also one of the most common food allergens (and have been on the rise for years), but even those of us without an allergy may be experiencing a less obvious reaction based on an intolerance or sensitivity. Common signs of food sensitivities to peanuts include weight gain, skin trouble, joint pain, headaches, fatigue, and digestive upset/bloating.
Peanuts also are contaminated with aflatoxins [(afff-lahh)] which are chemicals produced by certain types of mold that have been linked to liver cancer. I find it best to eliminate the risk, and nixed peanuts from my diet a while ago! That's why I love sunflower seed butters so much. They taste similar to the peanut butter I used to eat all the time.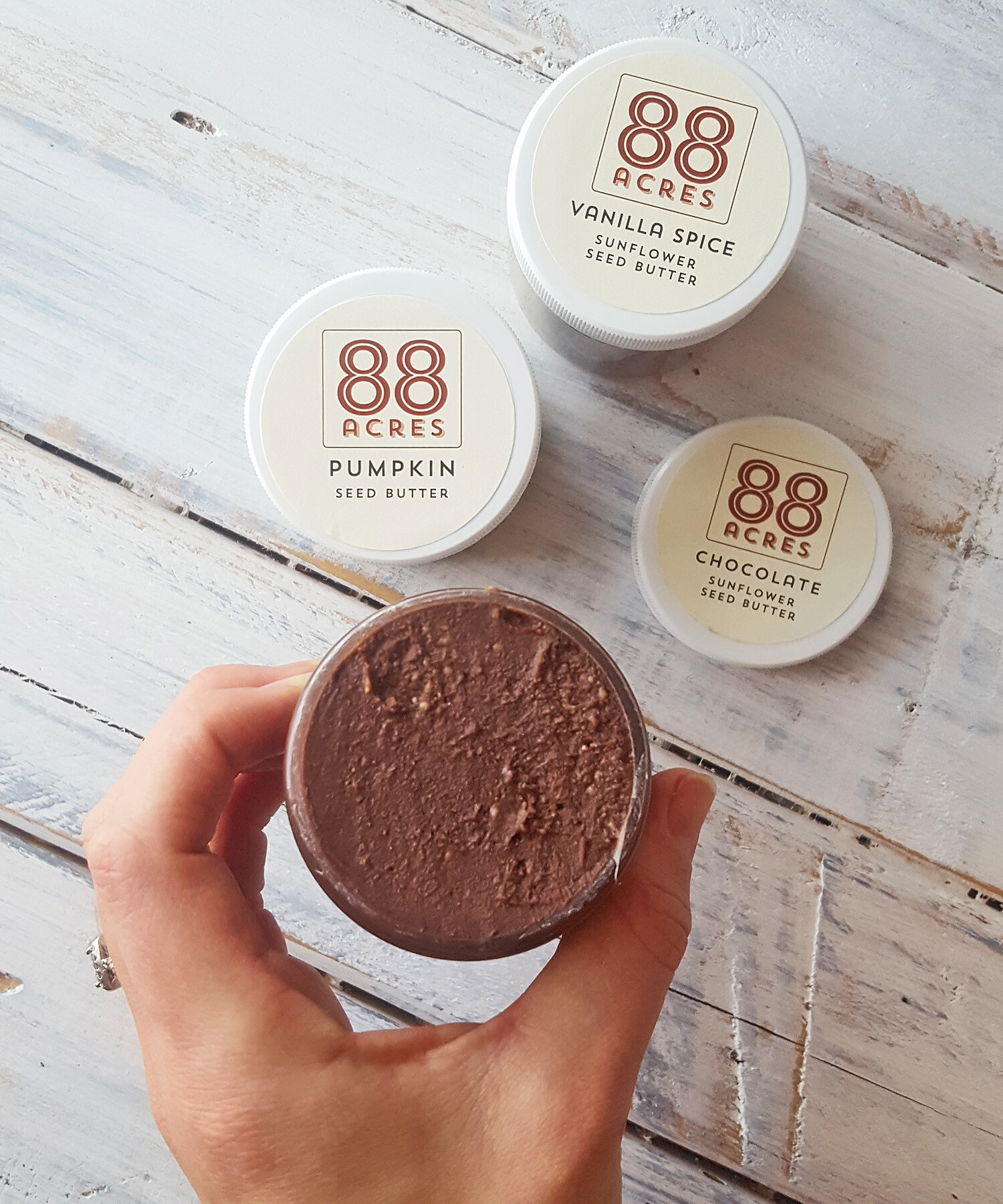 In this recipe, I used their chocolate flavored sunbutter. I found it to be thicker in consistency to the other 2 flavors (recipes to come!), but that didn't bother me. When I used it in this recipe I actually heated it up, and it softened just fine.
The chocolate flavor isn't as strong as I thought it would be – I think I was imagining Nutella – and it had only a mild sweetness to it. That's actually good, because less sugar = less insulin response = less fat storage 🙂 Put it this way, it has 7 grams of sugar in 2 tablespoons, Nutella has 20 grams in 2 tablespoons!!
Let's jump into the recipe. It's pretty easy to put together, and doesn't use a lot of ingredients.
I took some pictures of some steps (you'll have to excuse the pan I used, an 8×8 pan would have been perfect, I don't have one though, so I had to use only a portion of a pan I did have!)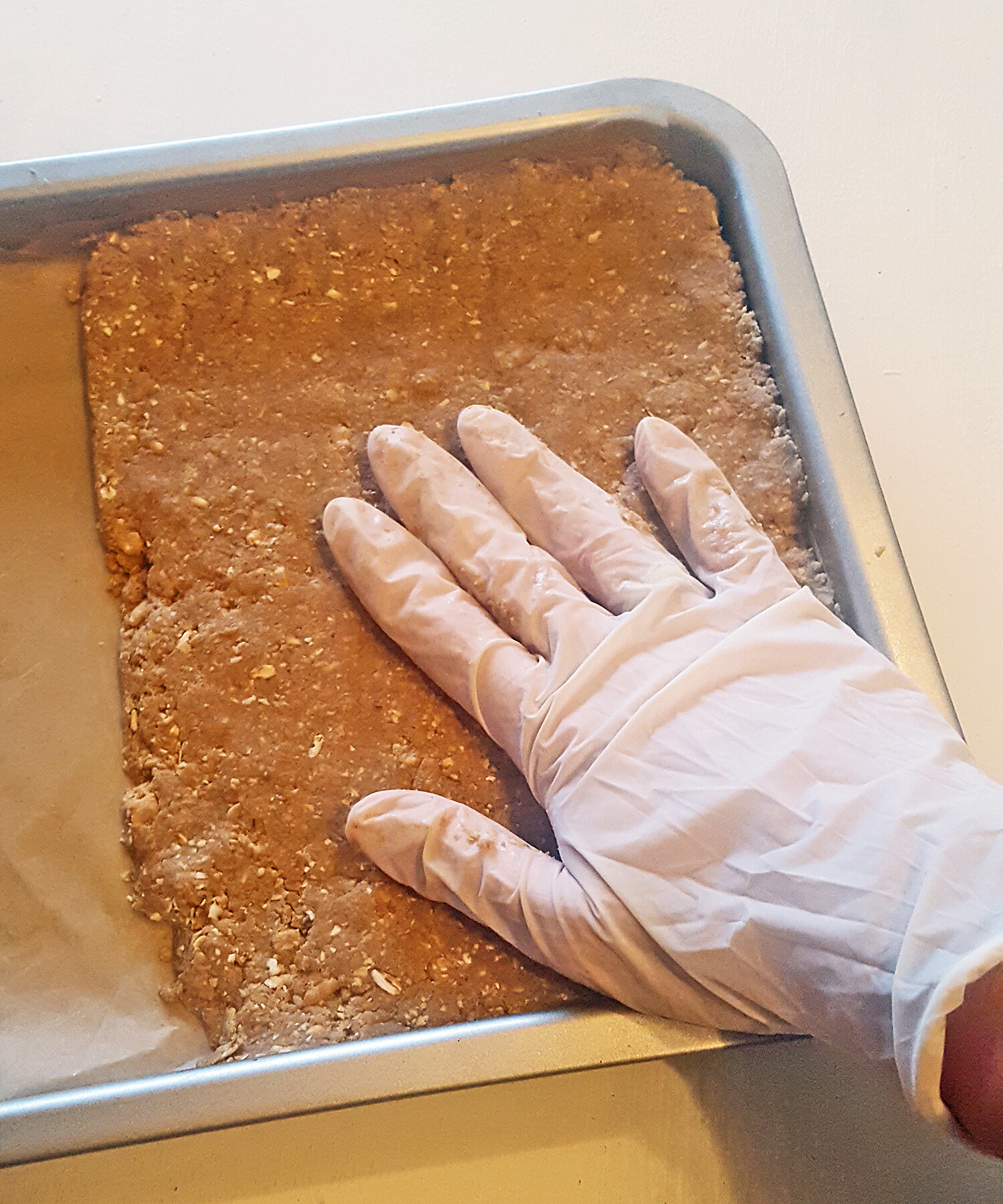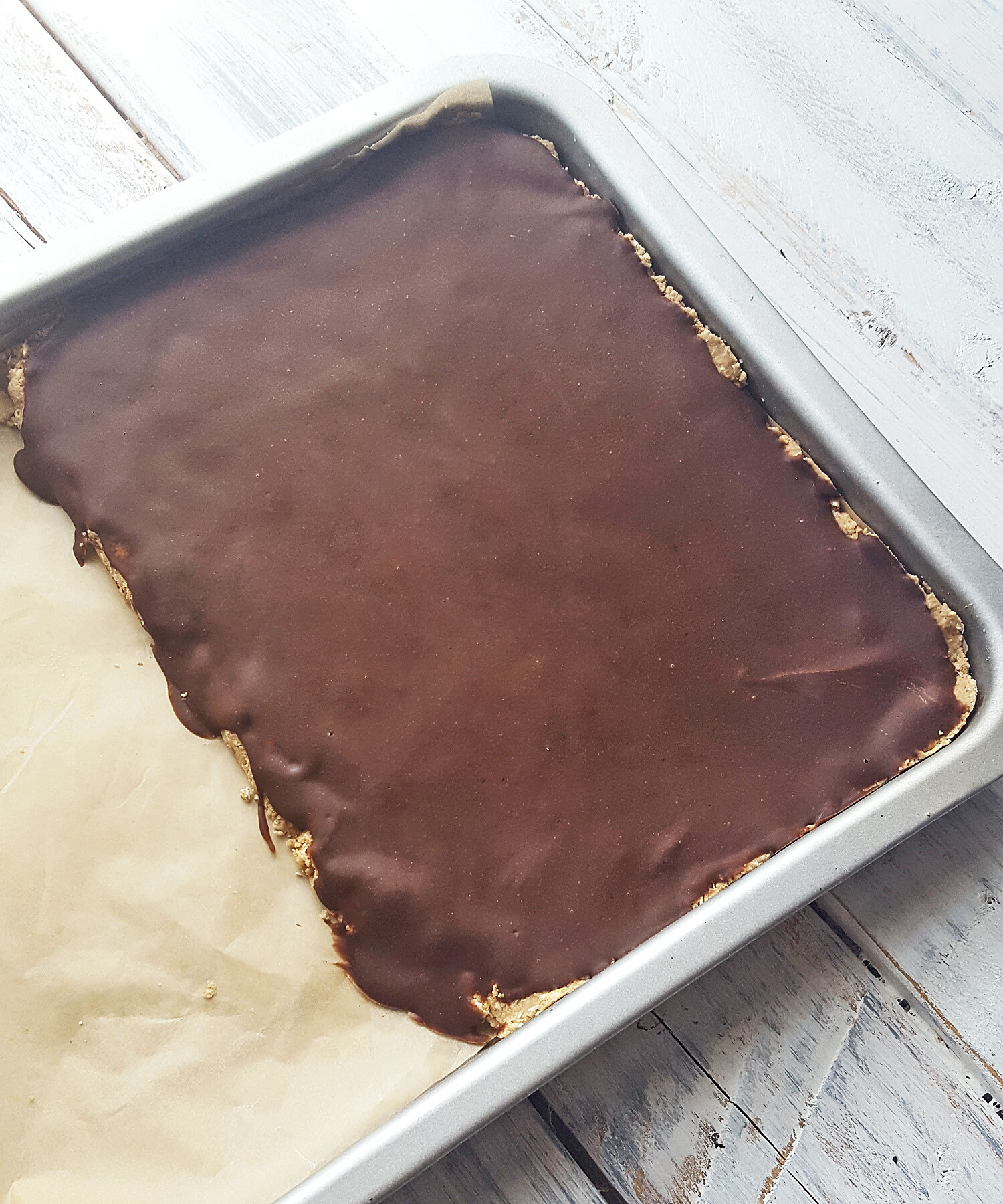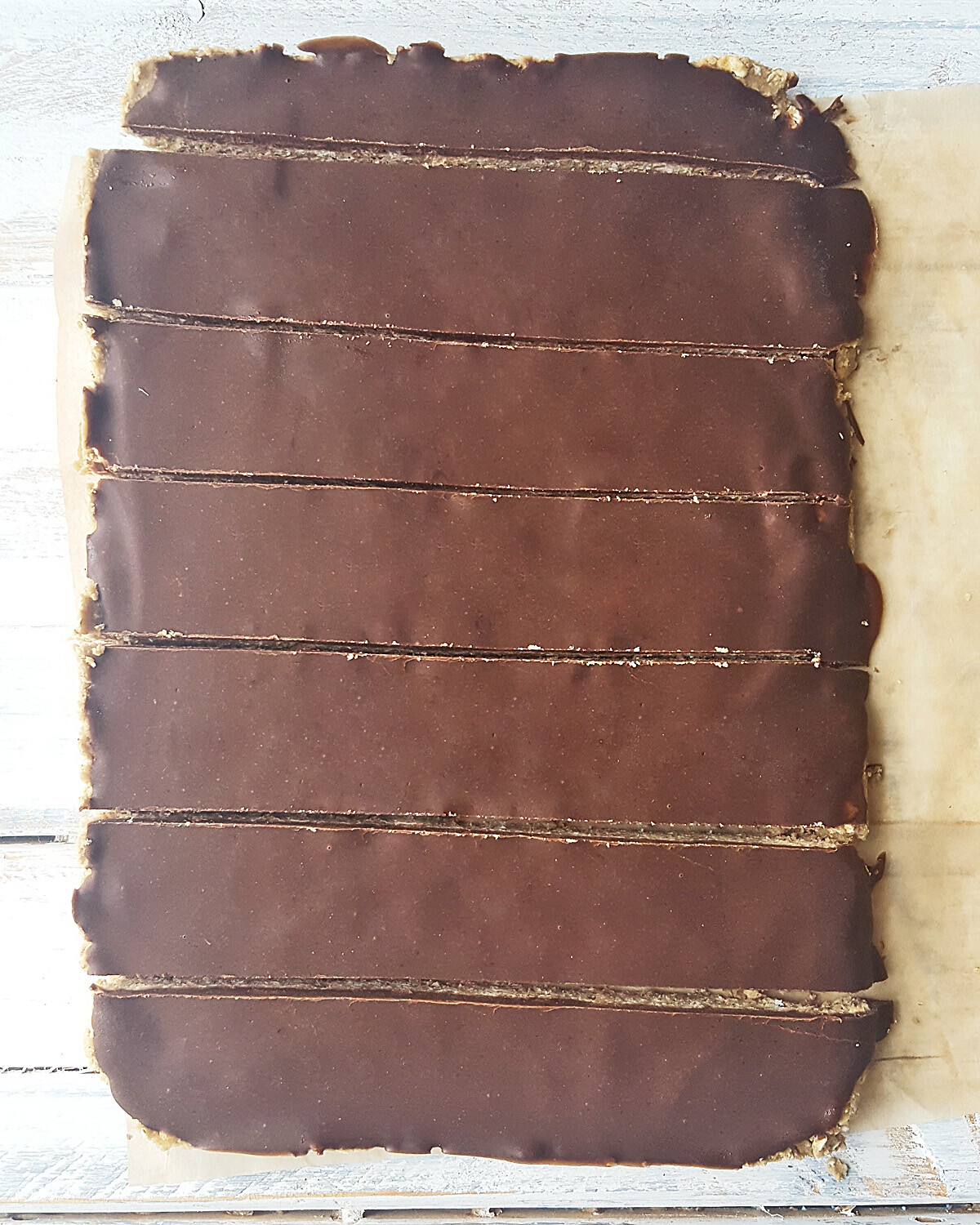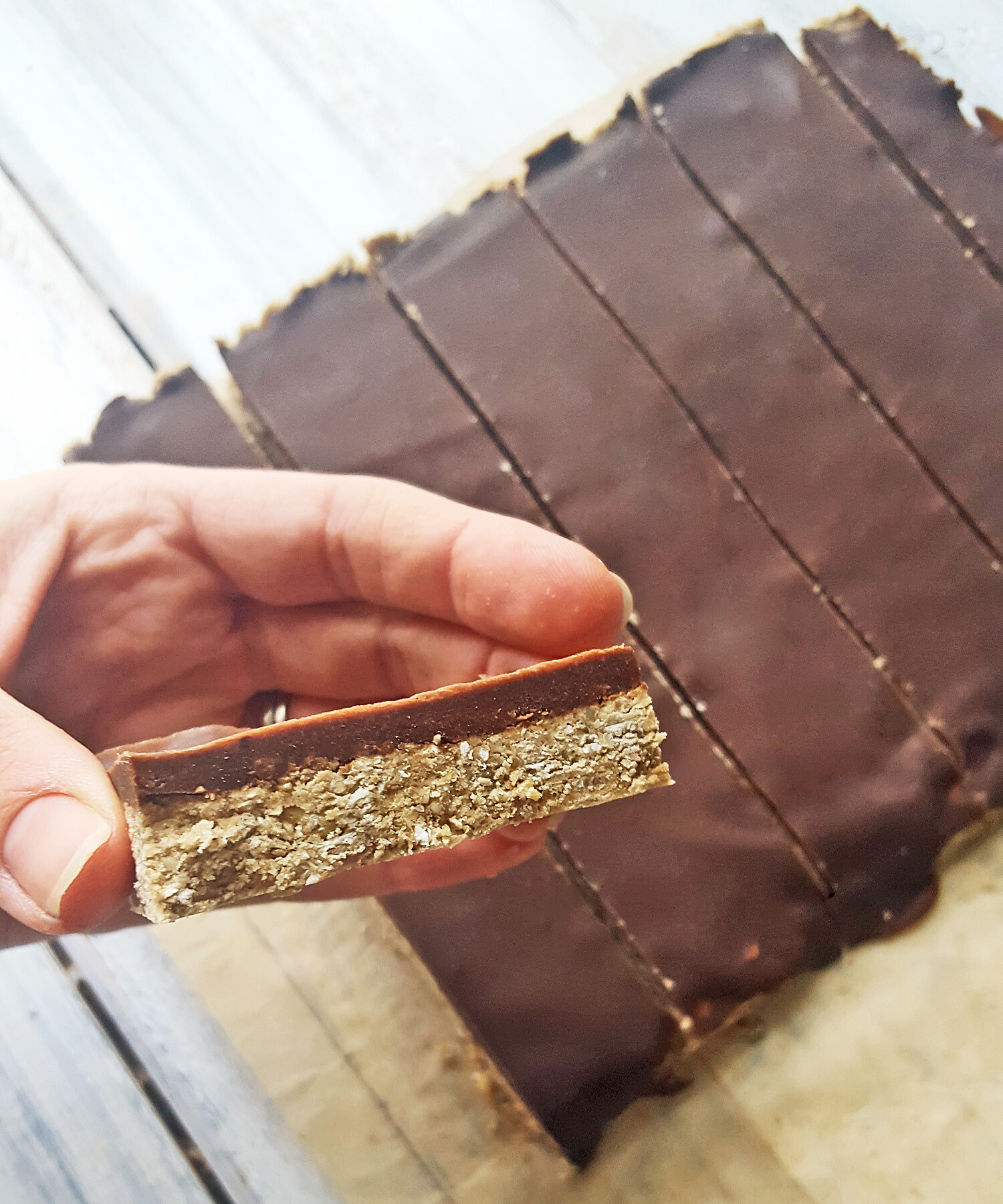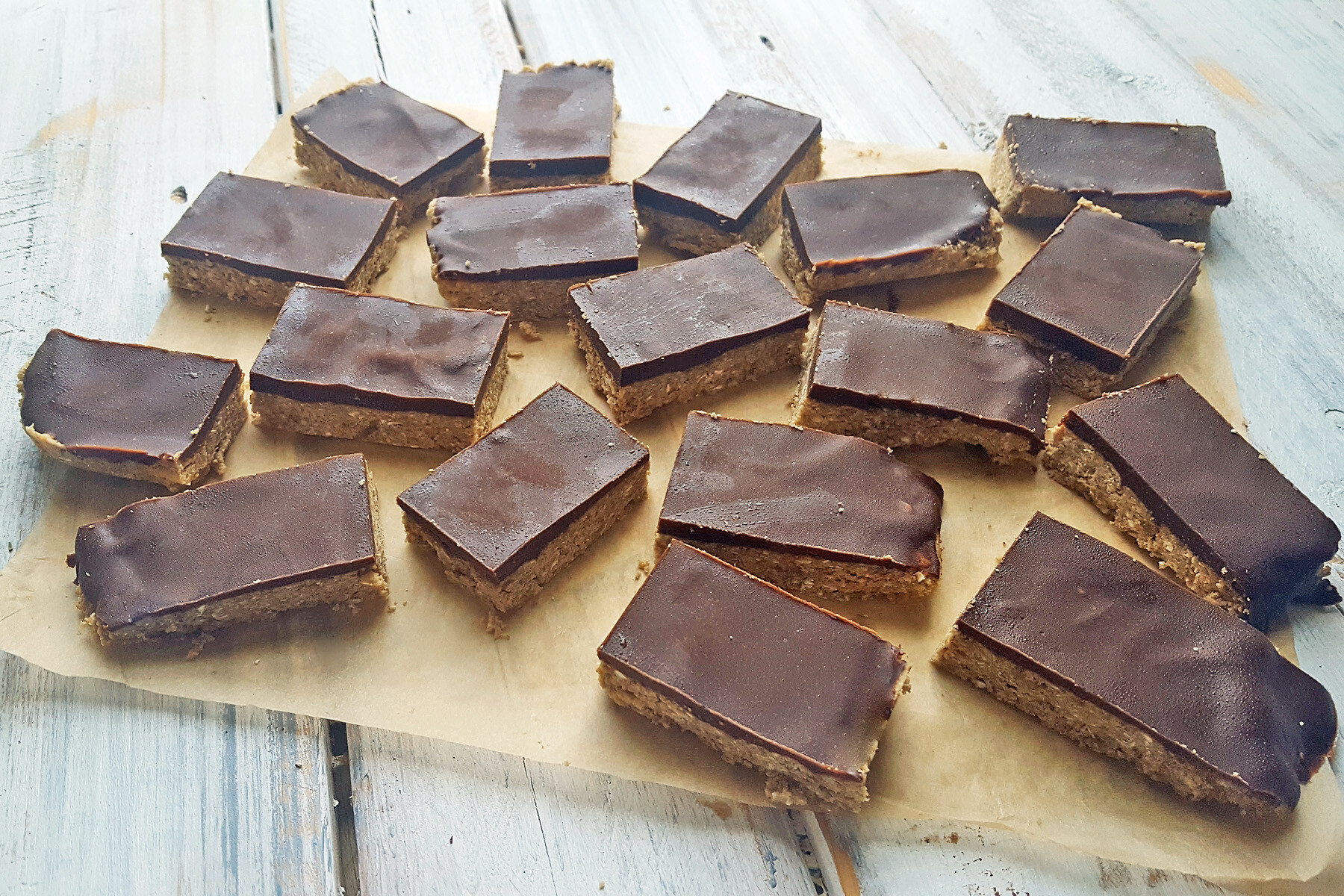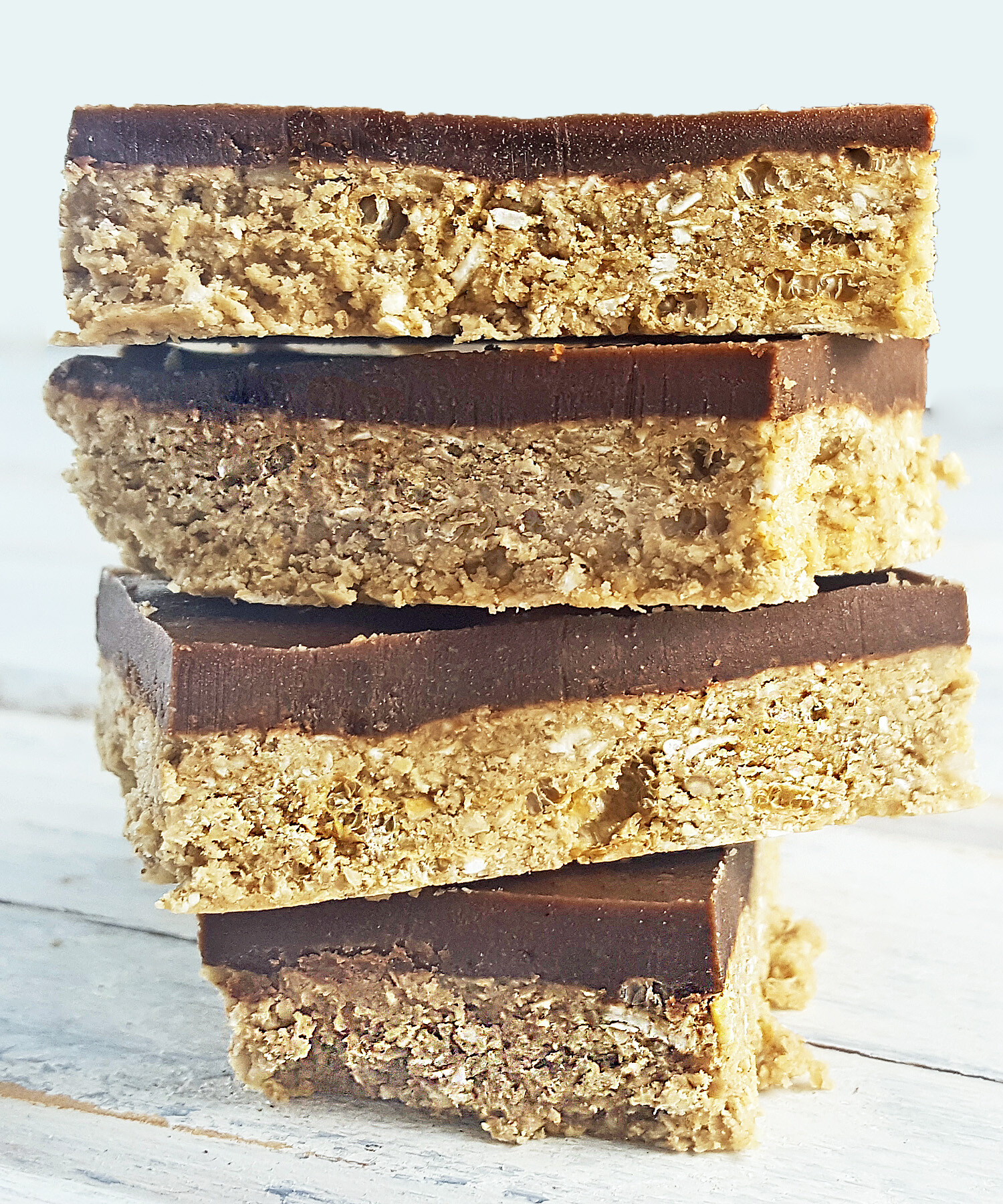 Vegan No-Bake Chocolate Crunch Protein Bars
2016-12-27 15:52:37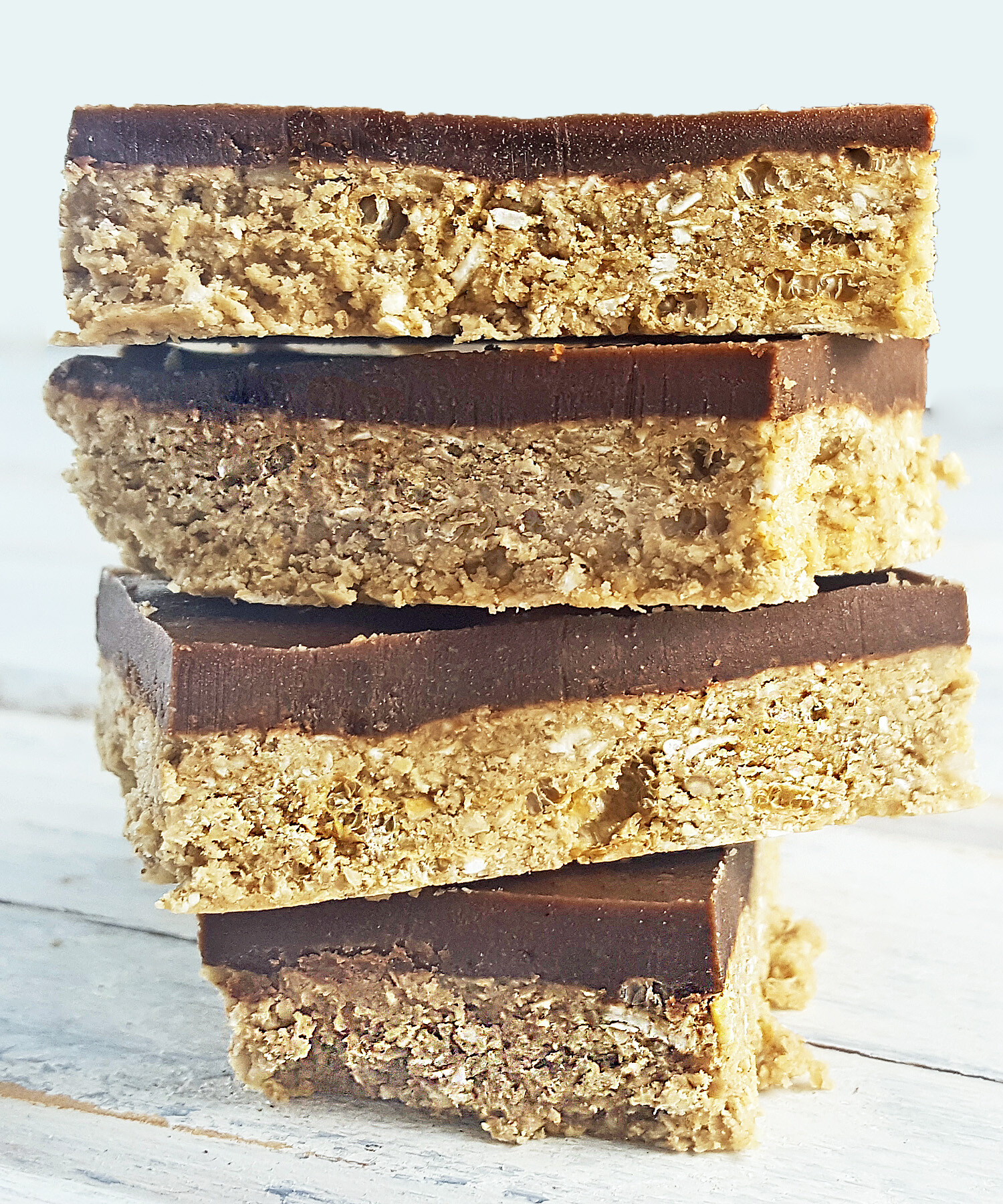 Gluten free, dairy free, soy free, nut free, vegan
Bars
1½ cups gluten-free oats, blended into a flour
½ cup vegan protein powder (I used Sunwarrior Vanilla)
½ cup organic crispy brown rice cereal
½ teaspoon sea salt
1/4 cup + 2 tablespoons nut/seed butter (I used vanilla sunbutter, but plain is OK too)
1/4 cup + 2 tablespoons pure maple syrup
2 tablespoons nondairy milk
1 teaspoon pure vanilla extract
Topping
¼ cup coconut oil
¼ cup chocolate sunbutter*
1 tablespoon cacao powder
1 tablespoon pure maple syrup
¼ teaspoon vanilla extract
Dash sea salt
Instructions
Line an 8-inch square pan with a piece of parchment paper.
In a large bowl, mix the oat flour, protein powder, rice crisp, and salt together. Stir in the nut/seed butter, maple syrup, and vanilla. If the mixture seems too dry, add a little coconut or almond milk, and mix again.
Pour and press the mixture into the pan until packed well and smooth on top. Place in the freezer and prepare the topping.
Topping: Melt coconut oil and sunbutter in small pot over medium low heat, stirring occasionally with a whisk until it starts to bubble. Add remaining ingredients EXCEPT vanilla, and continuously stir until it thickens, then remove from heat. Add vanilla and stir to combine.
Drizzle or pour and spread topping onto bars, then place back in freezer to set (about 15 minutes). Slice bars, store in freezer in zip loc bag or air-tight container.
Notes
* If using plain sunbutter in the topping, add 2 tablespoons additional cacao powder and maple syrup
Healthy Eaton https://healthyeaton.com/