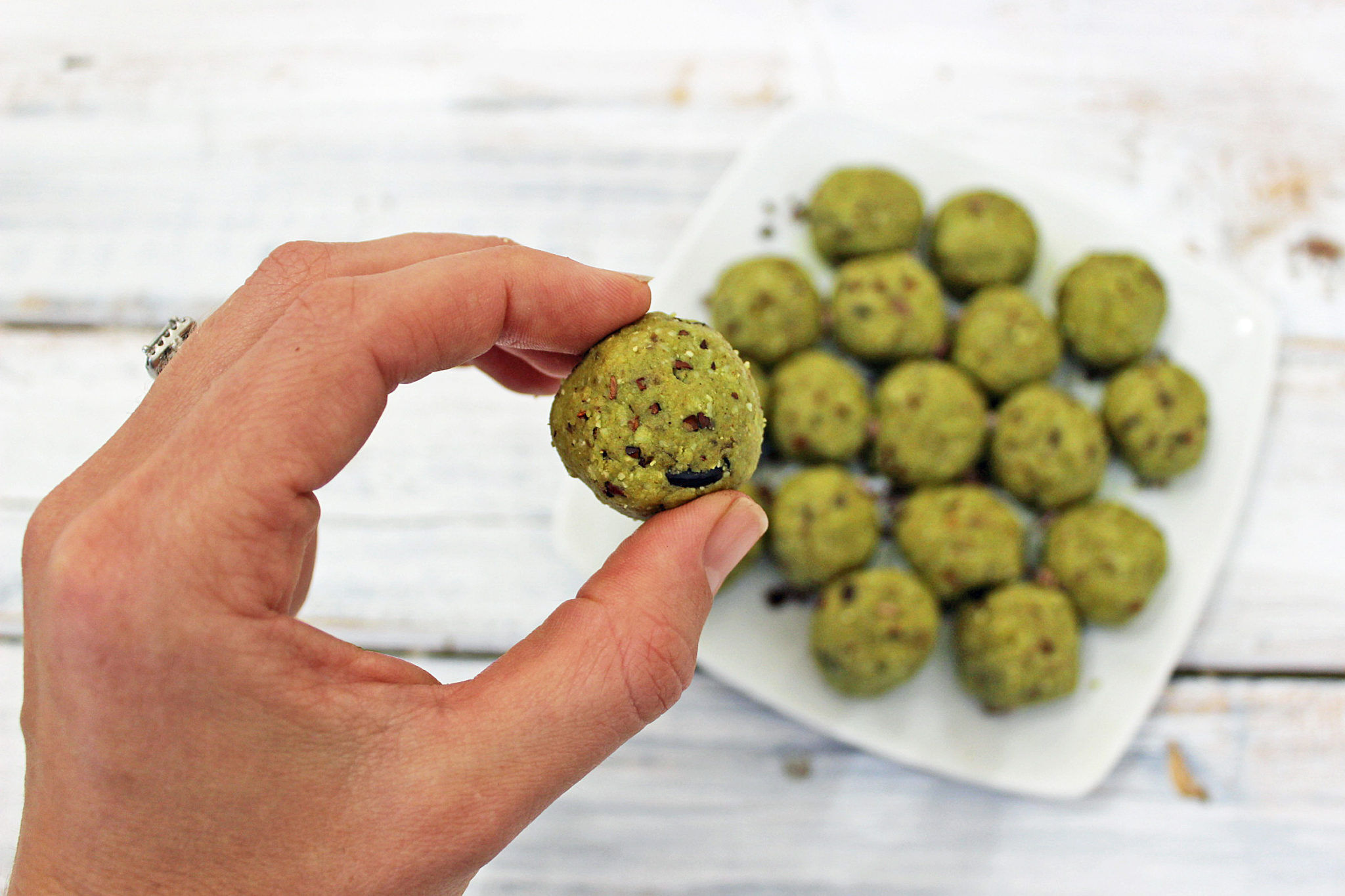 Seeing green? It's not just your computer or phone screen – it's matcha! Have you heard of it?
Matcha is one of those "superfoods" and is made from whole green tea leaves that have been pulverized into a super fine powder. It comes with a laundry list of impressive health benefits, including boosting the metabolism, burning fat (one study even suggested that matcha increases calorie burn by 4x!), increasing energy and alertness without the jittery side effects that coffee comes with, is loaded with antioxidants, and has detoxifying power – even moreso than green tea thanks to its high chlorophyll content.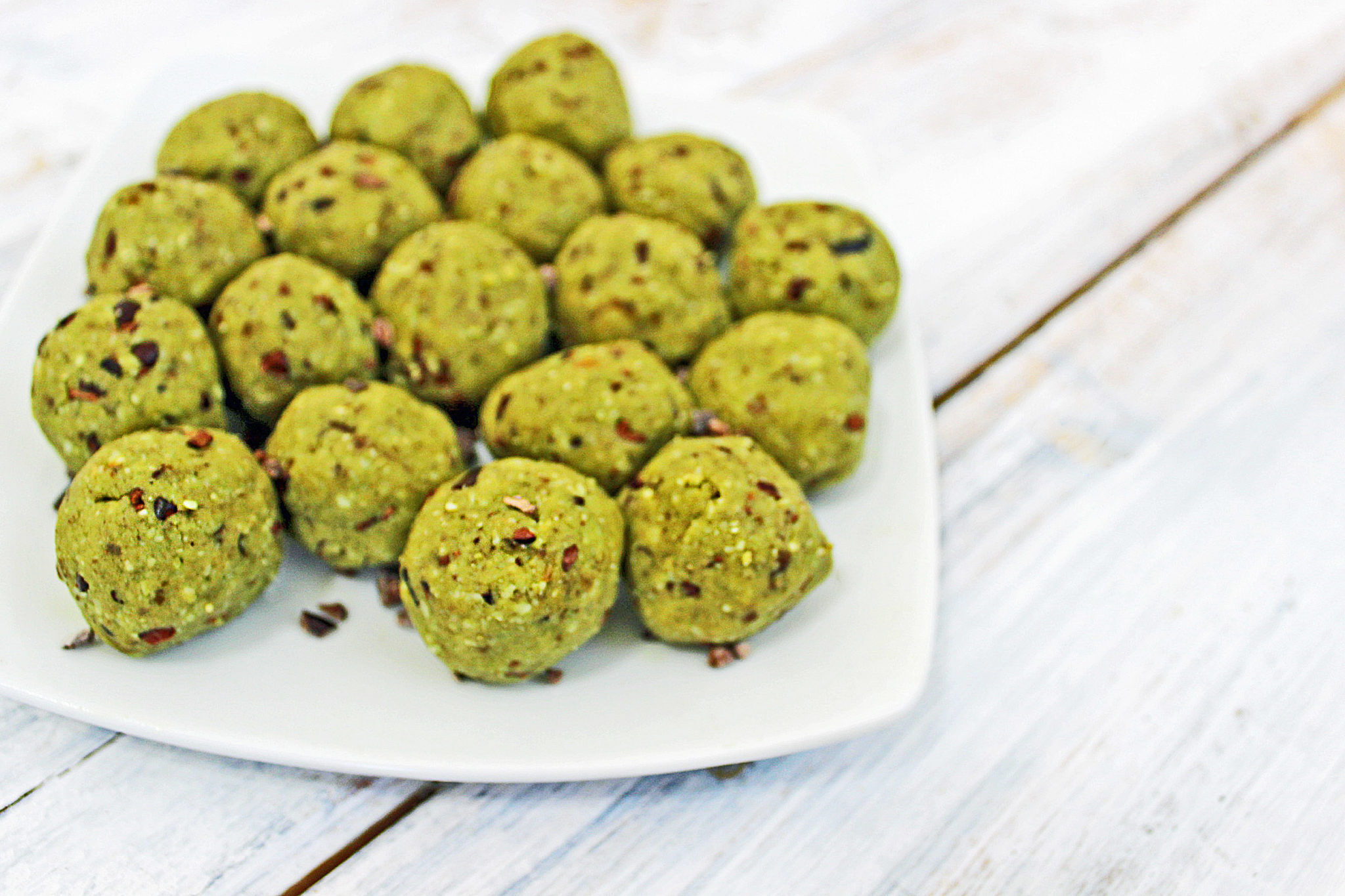 I love that it does not put any stress on the body. It doesn't raise blood pressure or heart rate while still giving people that energy boost when they need it.
This is especially great for those of us that are naturally pretty stressed out anyway. The more stress on the body – whether it's coming from work or a beverage – the more our body releases the hormone cortisol, which has been linked to increased appetite and cravings for comfort foods, slowing rate of healing and recovery, triggering belly fat storage, speeding up aging, difficulty concentrating, and more.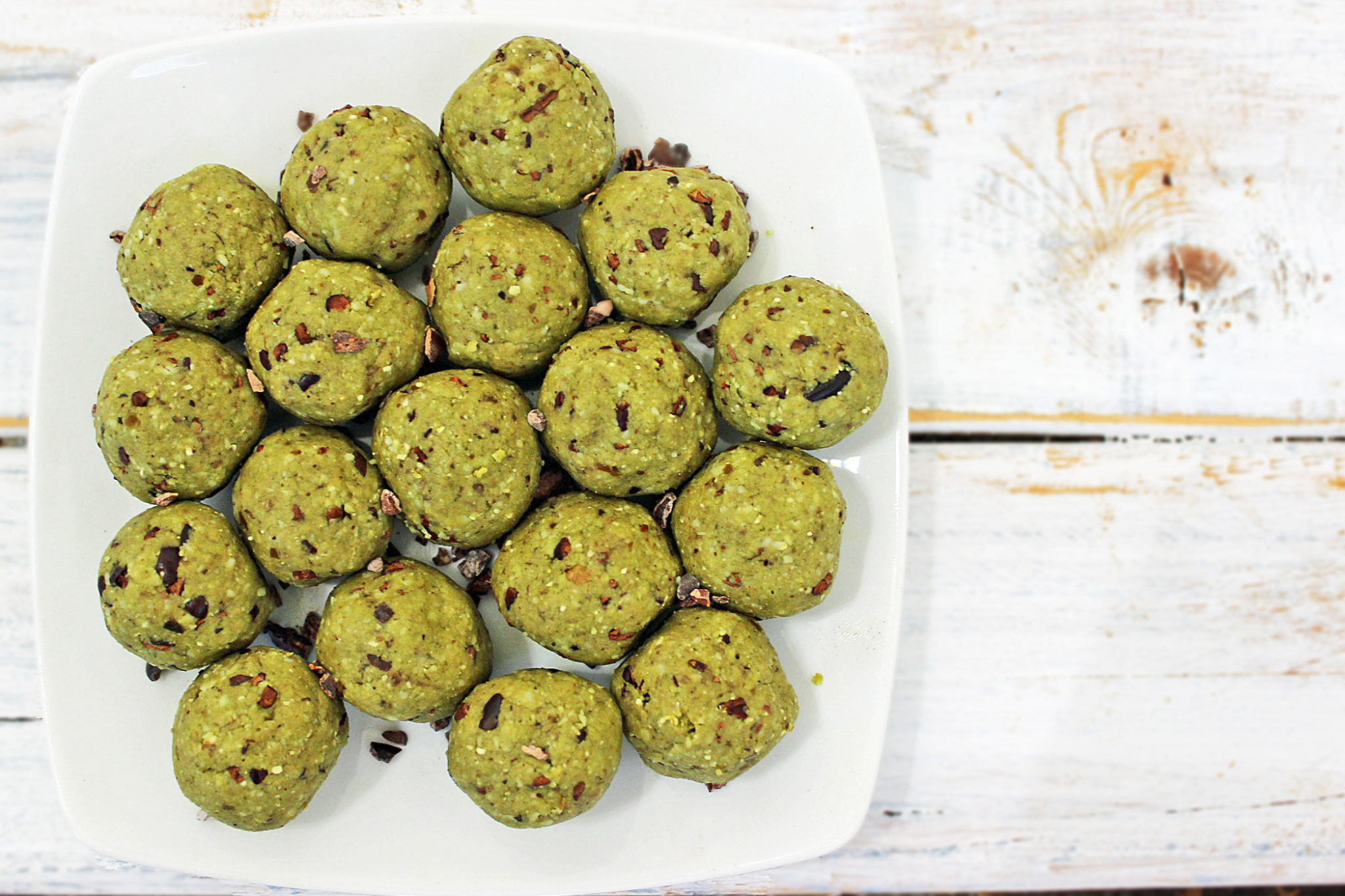 Matcha has been sneaking its way into recipes all over the internet. Head to Pinterest or Instagram and you're guaranteed to see a TON of green colored goodies – like matcha lattes, cookies, smoothies, puddings, and pancakes.
You might be able to find matcha powder at your local grocery store, but I bought mine on Amazon here (note: it's not super cheap and quality really does matter…but a package will last you a while because you won't use a ton of it in a recipe).
Below I have for a favorite new recipe of mine that I created as part of a project with Sweat and Sweets: Matcha Mint Chip Protein Bites. Enjoy!!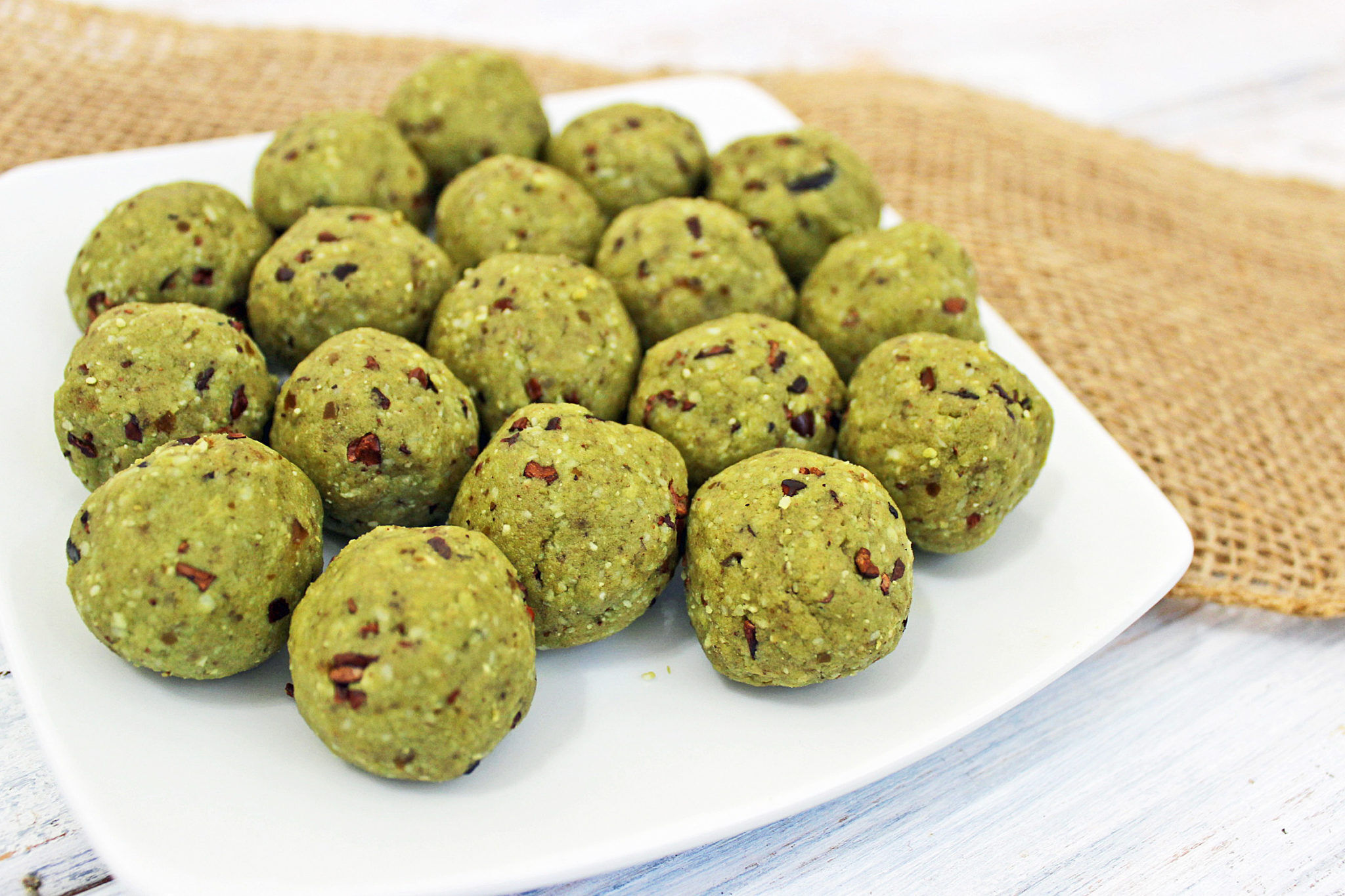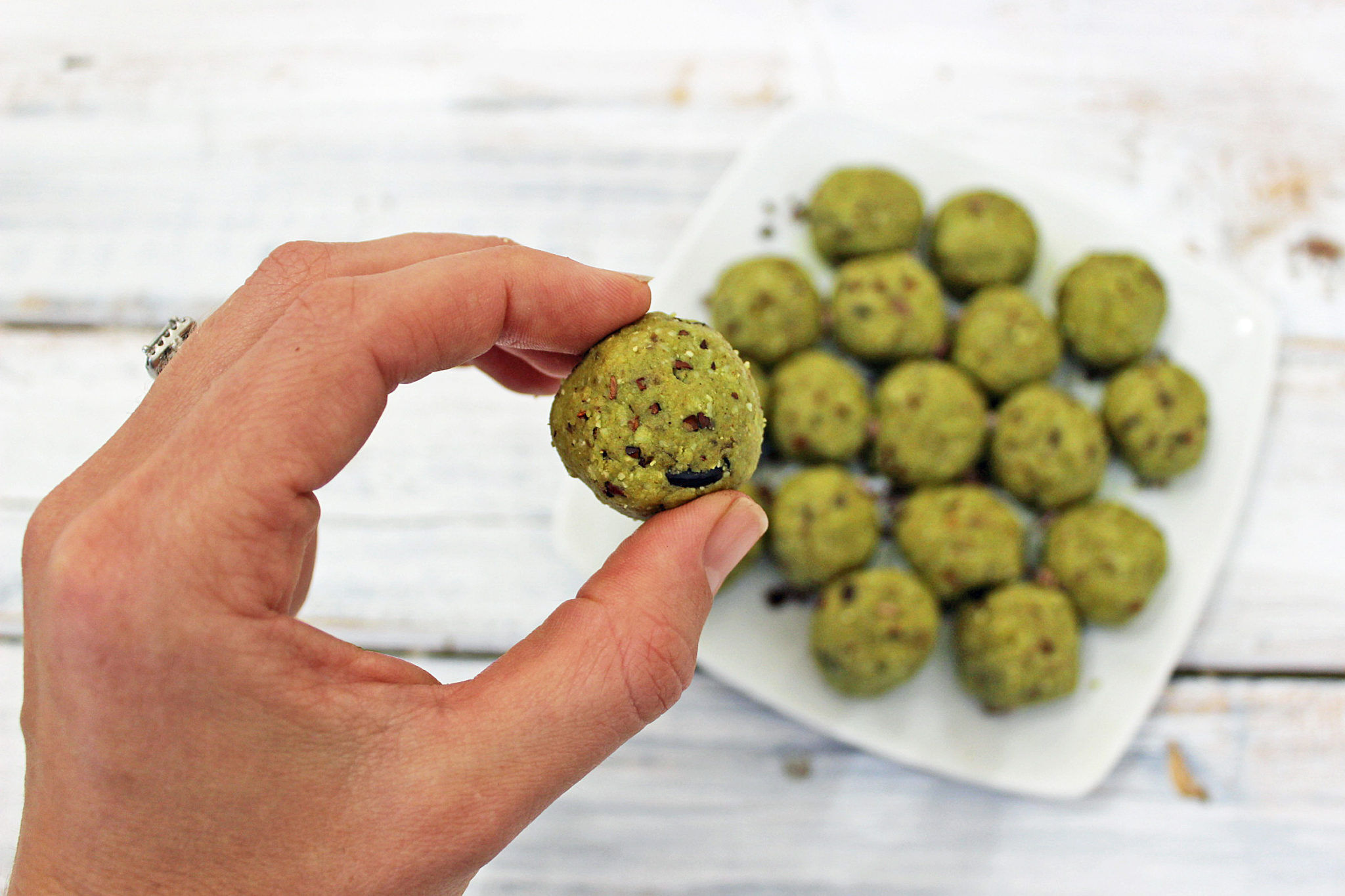 Matcha Mint Chip Protein Bites Recipe
2017-05-16 09:17:04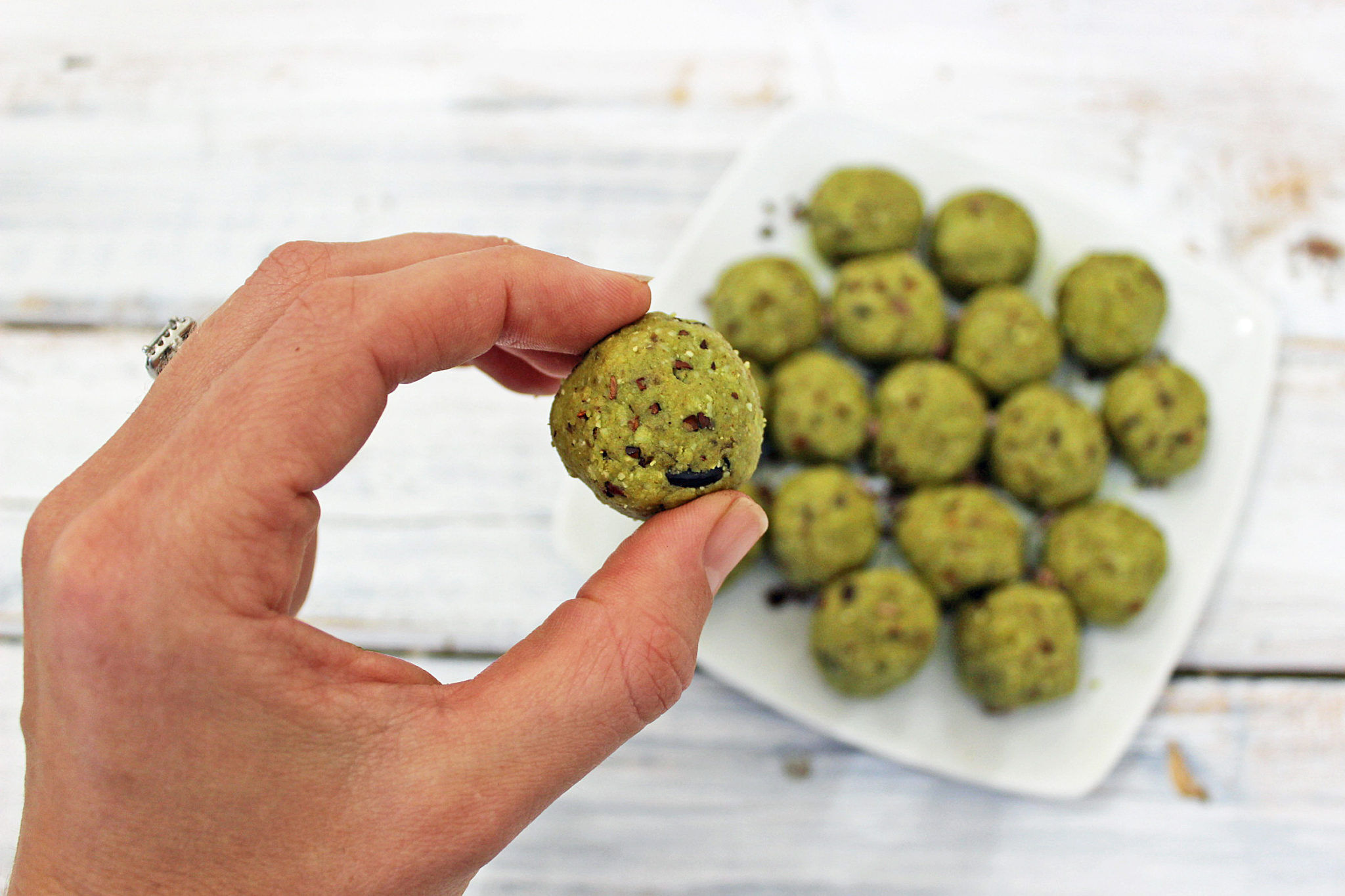 Gluten free, dairy free, soy free, vegan, vegetarian, Paleo
Ingredients
1/2 cup nuts (i.e. raw cashews, almonds, walnuts or even sunflower seeds)
1 cup unsweetened shredded coconut
6 Medjool dates, pits removed
1/2 cup protein powder, almond flour or ground oats
2 teaspoons matcha powder
2 teaspoons peppermint extract or 1 drop doTERRA peppermint essential oil
1 tablespoon coconut oil, melted
1-2 tablespoons maple syrup
2 teaspoons milk (I used unsweetened almond)
1/4 cup cacao nibs or Enjoy Life brand chocolate chips
Instructions
In a food processor, process your nuts or seeds until they resemble a fine powder.
Add in your coconut and process for 2 minutes and your mix starts to look a little like nut butter. Scrape down the edges.
Add the remaining ingredients EXCEPT chocolate chips or cacao nibs and process 1 more minute. The consistency is right when you can pick up a handful of the mix and squish it together to form a ball. If it's still too powdery, add another teaspoon or 2 of milk.
Add your chocolate chips/cacao nibs to the food processor and pulse for a few seconds to break them up and disperse them through the mix.
Roll your protein bites by grabbing a tablespoon of dough and pressing/rolling it into a ball shape with your hands (I like using an ice cream scooper).
Store in the fridge for 1 week or freeze them.
Healthy Eaton https://healthyeaton.com/