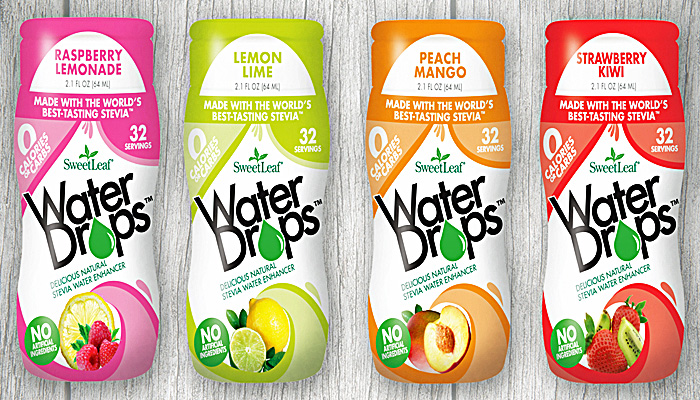 Drink more water. This is a statement you've probably heard constantly your whole life from your mom and dad, doctors, the health teacher at your school, and advertisements on TV. It's true, most of us should be drinking more water. Experts say to aim to consume half of your body weight in ounces per day, with an extra glass for each caffeinated and alcoholic beverage you have.
I know water isn't everyone's first choice in beverages, but it should be. Water accounts for nearly 60% of your body composition and is essential for the growth and regeneration of every cell and every bodily system. Without proper hydration, your body won't work properly, simple as that. If you're not getting enough, you might experience fatigue, low energy, broken out skin, digestive problems, headaches, muscle/joint pain, poor concentration, and accelerated aging – just to name some things.
To be honest, I'm not the biggest fan of plain water. Chugging it down can be a real pain, especially when you try to drink so much per day. So to help myself drink more H2O, I often look for ways to spice things up and make drinking more enjoyable and of course, tasty. Infusing water with herbs or fruits is good, but it takes planning and time. There are LOTS of flavored water enhancing drops on the market, but nearly all of them contain sugar or artificial sugar, chemical crap, and leave you with a chemical-ly after taste in your mouth.
Then I found SweetLeaf Flavored Water Drops, made with the sweetener stevia, and drinking water became a LOT easier and tastier!

For those who don't know, stevia is a natural, low-calorie sweetener that comes from the stevia plant. You can actually grow the plant easily right in your backyard. Compared to sugar, it is 200x sweeter and comes with 0 of the side effects. Beware: not all stevia products are created equal (check out my review of Truvia here). There's even a product called Stevia in the Raw (sounds legit right?) but it contains dextrose in it – an artificial sweetener!
"Natural flavors" is another ingredient added to some powdered and liquid stevia products. Unless you contact the company and know what exactly these flavors are coming from, you could be eating beaver butt glands and not even know it.
How are SweetLeaf Flavored Water Drops Different?
SweetLeaf Flavored Water Drops are unique compared to nearly all other water enhancers. They contain NO artificial ingredients, NO calories or carbs, NO sugar, NO gluten, NO chemicals, and have a glycemic index of 0 (which means that your blood sugar is not altered, making this a perfect sweetener for everyone, including people with diabetes). It uses organic stevia, and the natural flavors used to make these drops come from a blend of plants and herbs.
They come in 6 flavors: Peach Mango, Lemon Lime, Raspberry Lemonade, Triple Berry, Tropical Punch, and Strawberry Kiwi.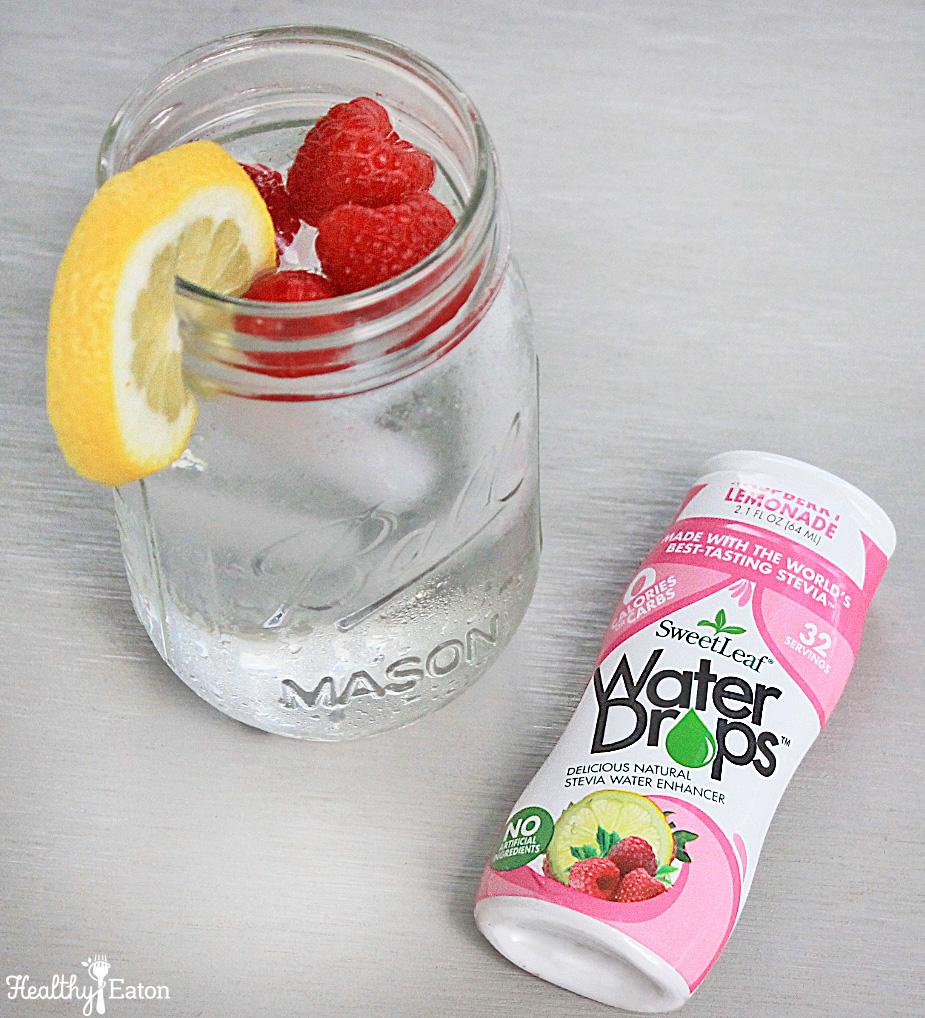 Fun Ways to Use
Each 2.1 fl.oz bottle contains approximately 32 servings; it depends on how sweet you want your water. One small squeeze will give you just a hint of taste while a couple more drops will give you a flavorful sweetened drink. The bottles are small enough that you can toss in your bag for flavoring your water while on the go.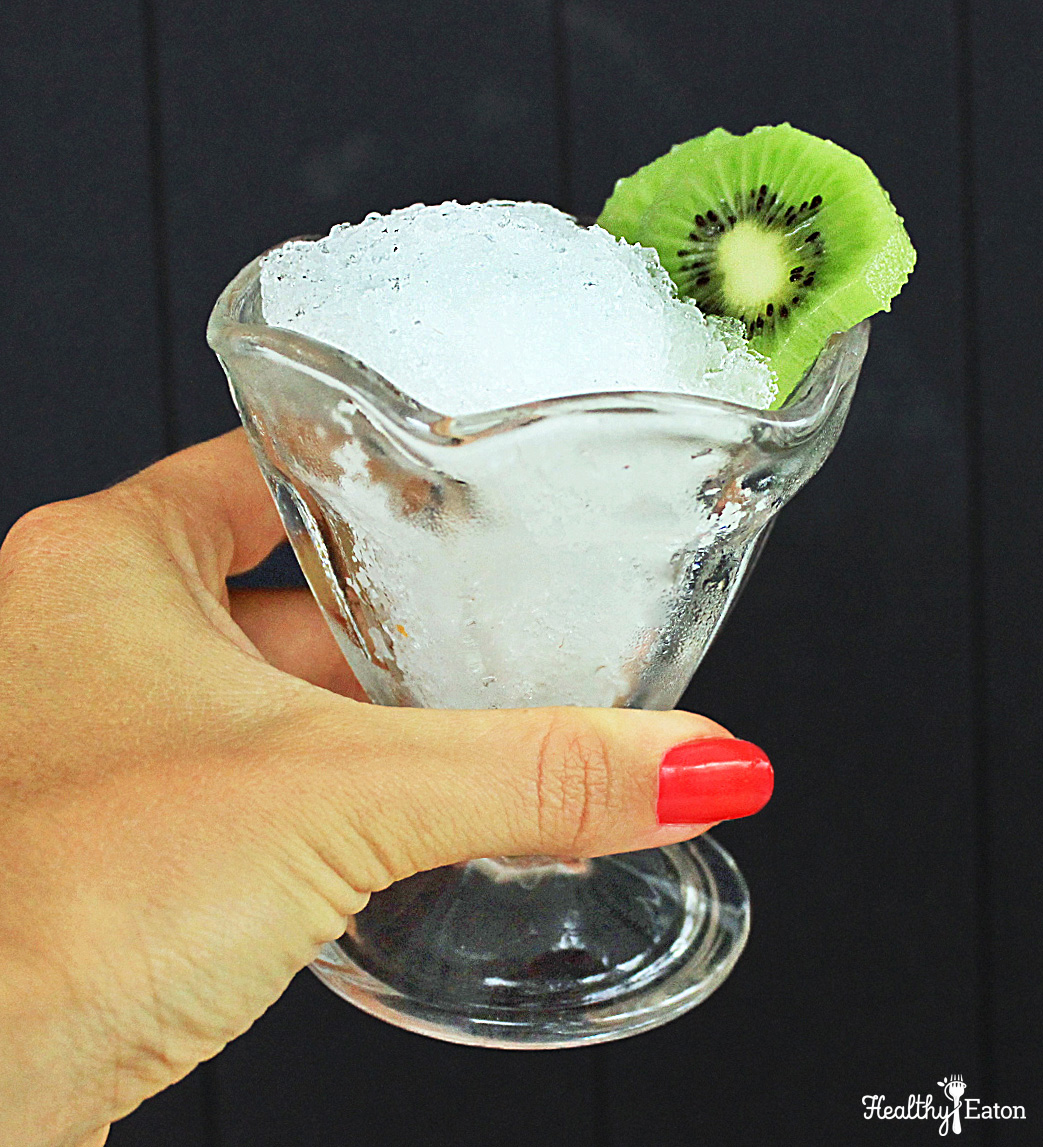 I love to use it in regular filtered water, but you can also use them in some other fun ways too. For example, do you or someone you know have a soda addiction? Let these drops help break that soda habit. Take plain seltzer water and mix in a squeeze or 2 these SweetLeaf drops. Voila – instant bubbly sweetness, no harmful ingredients. Try replacing your sodas even for a week and see how you feel.
Another fun way to use these is to make your own snow cone/slushie/Italian ice! Skip the petroleum-based food dyes and chemical storm of ingredients in the snow cones or Italian ices you get at the grocery store and use these drops instead. Put some ice in the blender, and process until a snow-like consistency (or use a cool appliance like this!). Then squirt some of the flavored water drops into it and stir. YUM! You could also flavor water and freeze in popsicle molds.
It was hard to pick a favorite, my I'd have to say Strawberry Kiwi is the best (followed closely by Raspberry Lemonade). I only put 1 or 2 squeezes in my water and that was plenty.
How to Buy
Wondering where you can buy these delicious drops to take your water to the next level?? Here are some links:
Strawberry Kiwi
Peach Mango
Mixed Berry
Tropical Punch
Raspberry Lemonade
Lemon Lime
Which are you most excited to try??