Jicama taco shells are the best thing to happen to a taco since the invention of the taco. It's true! Tacos (especially fish tacos) are one of my all time favorite foods. Last year, I was in the middle of one of my 15 Day Clean Eating Detoxes and I got a huge craving for tacos. Unfortunately, corn isn't allowed in the detox program (it's a food that more and more people are developing sensitivities to…thank you GMO's!) so I had to get creative.
I had just heard about jicama and thought that might be the perfect vessel. I peeled the vegetable, and whipped out one of my favorite kitchen tools, my mandoline (I have this one and LOVE it) and sliced it paper thin. To test it out, I applied a layer of guacamole, topped it with some Mexican-seasoned ground beef with chopped onions and peppers mixed in, and topped that with shredded cabbage and salsa. It was so good! I haven't had a corn taco shell with my homemade tacos since then.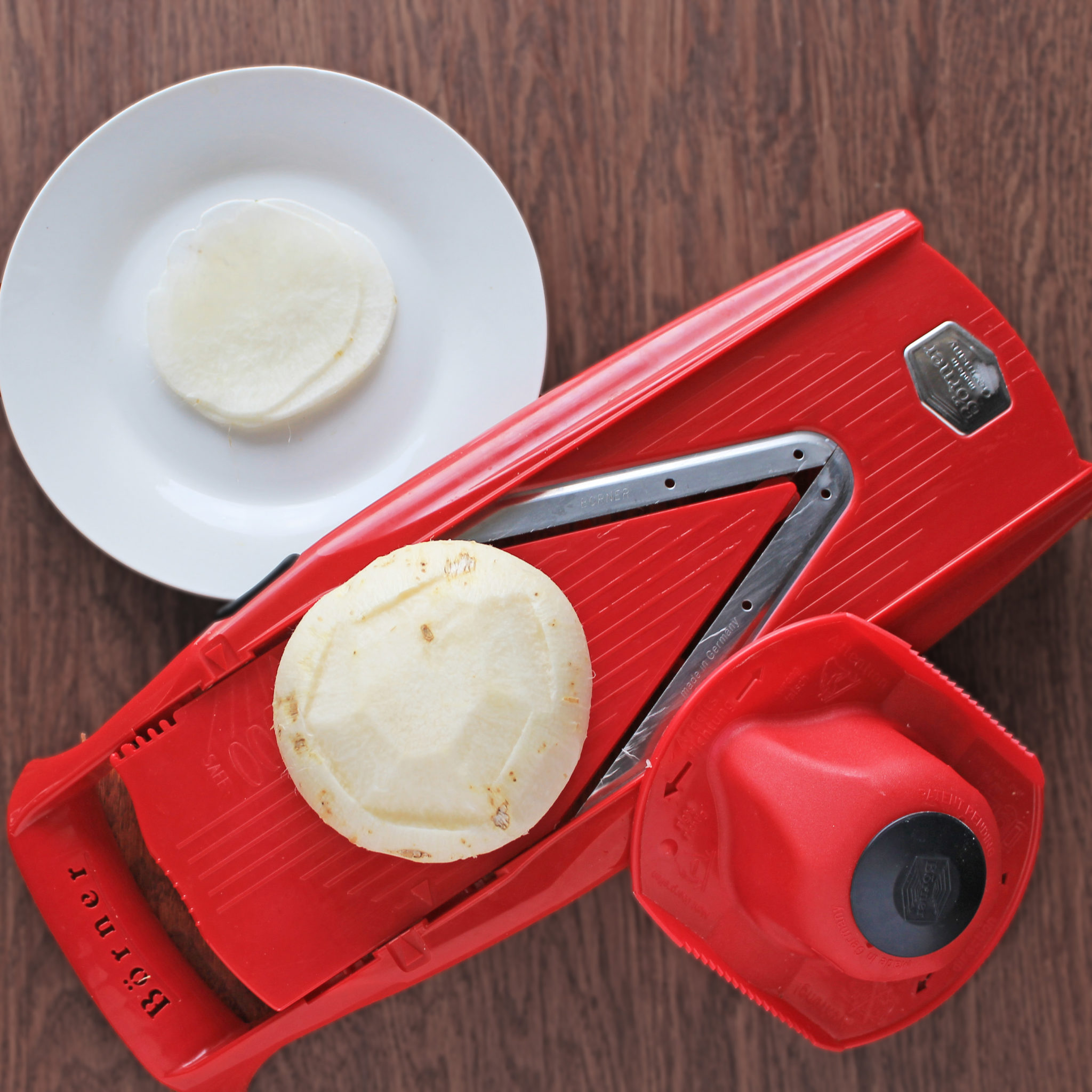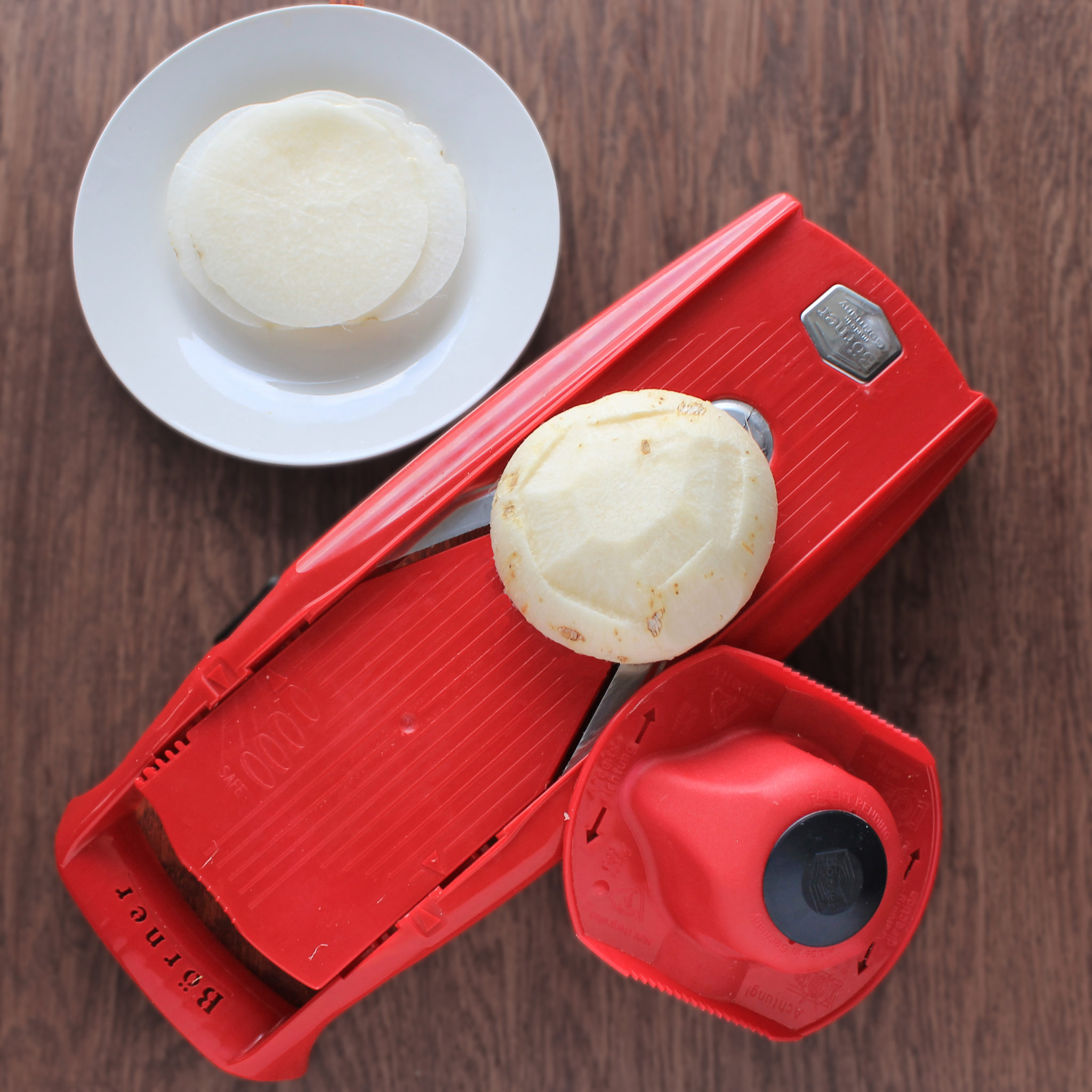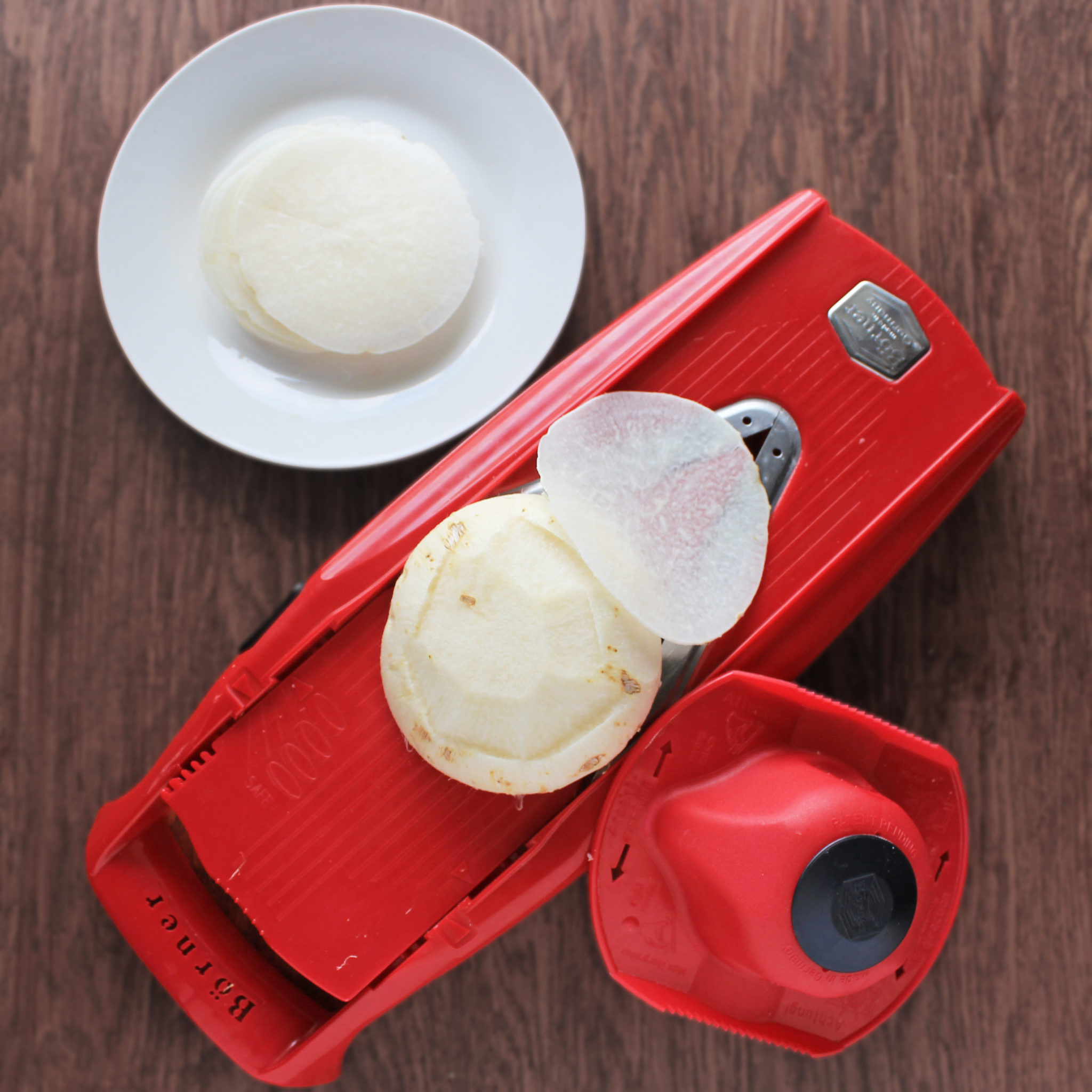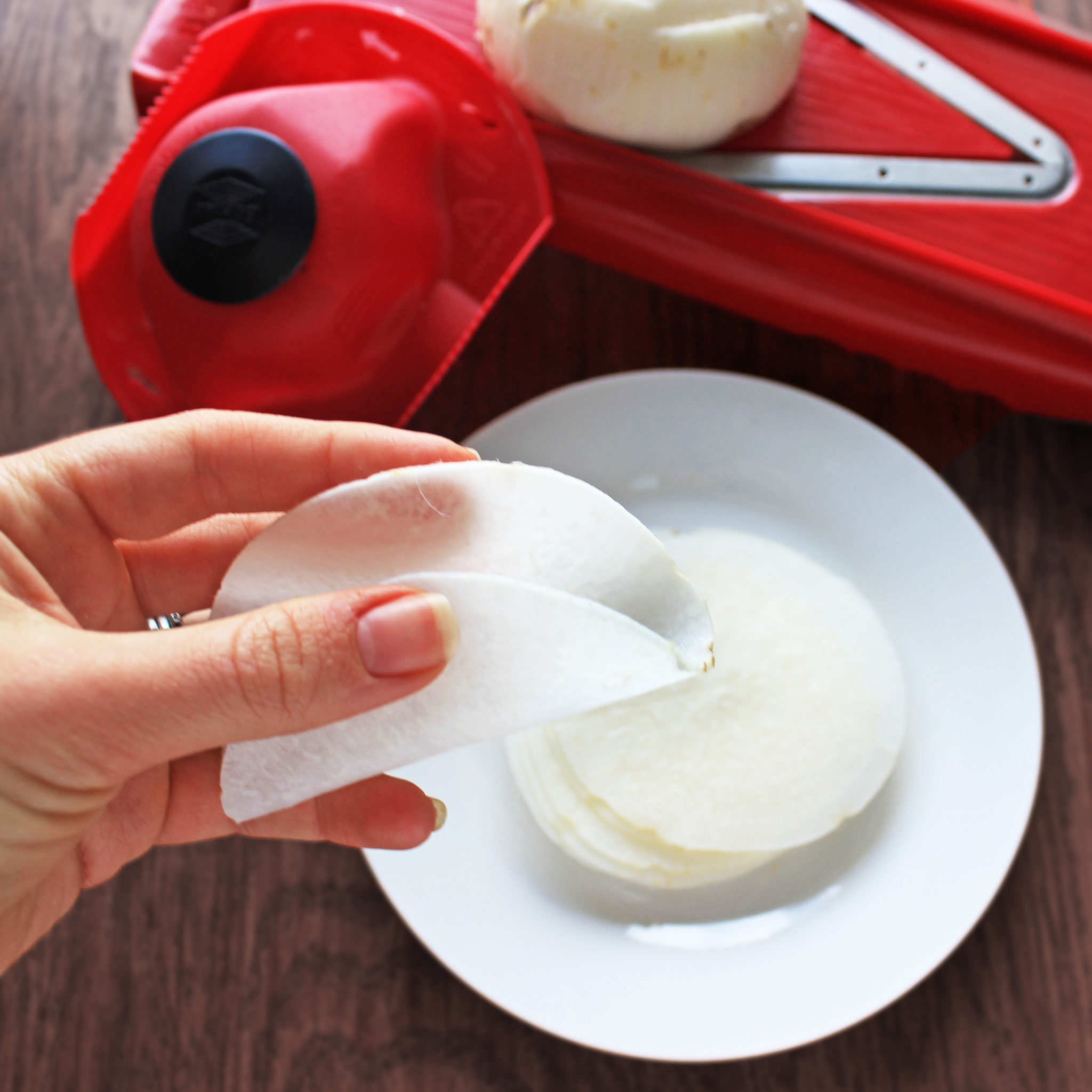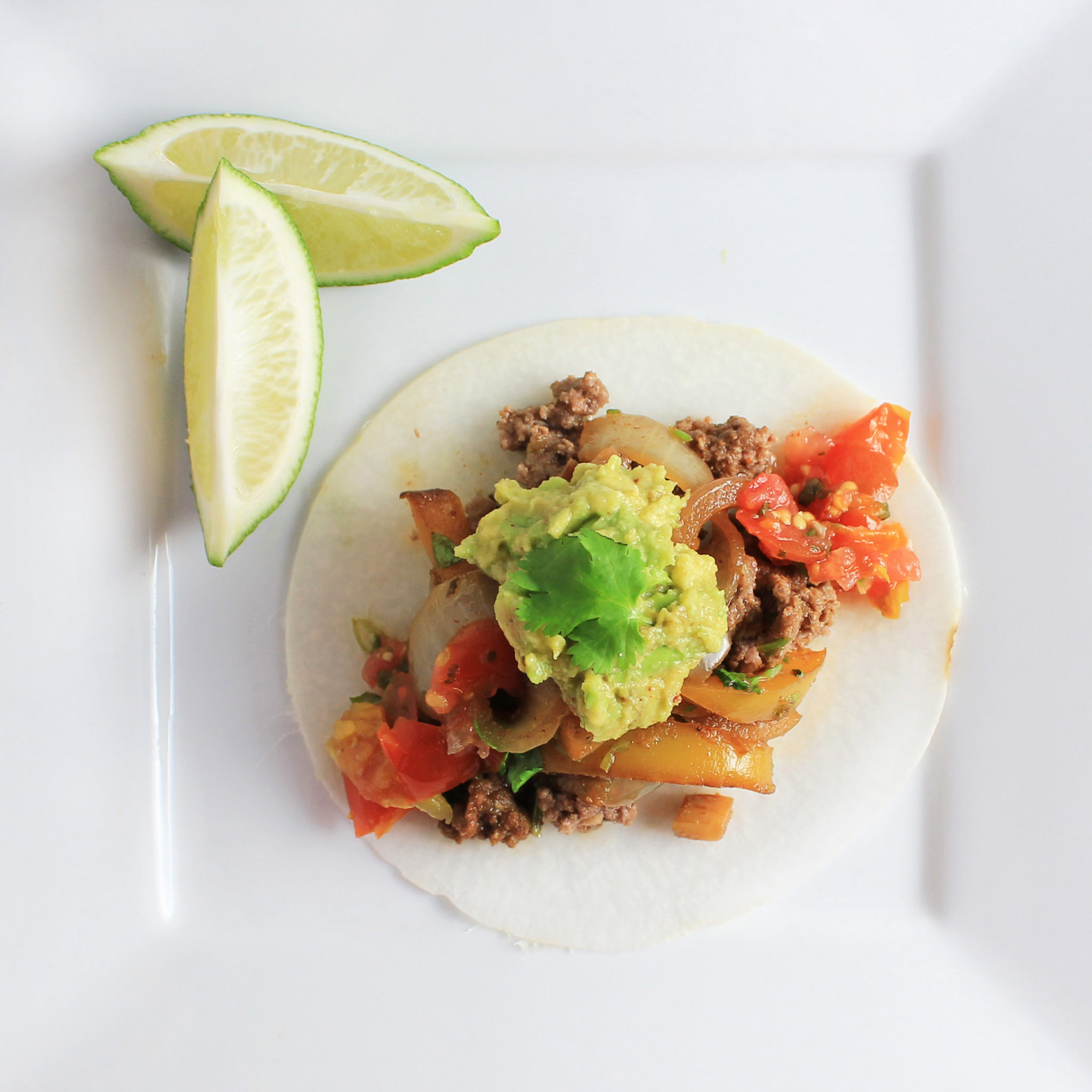 There are a lot of different brands of mandoline slicers out there. I tried 4 of them before I found this one by Swissmar. I've had it for 2 years now, and use it nearly daily! It's not only great for jicama shell tacos, but I love cutting uniform slices of veggies for grilling, roasting, salads, and snacking on.
Have you ever heard of the vegetable jicama? It's semi-sweet-tasting and crunchy, kind of like a mix between an apple and a potato. It adds a great crunch and freshness to the Mexican food, plus it's super durable. Jicama also comes with numerous health benefits: helps to stabilize blood sugar levels, boosts digestive health, and supports nerve functioning.
My favorite use of this vegetable is for jicama shell tacos, but you can also cut it into sticks and use with your favorite dips, like guacamole, hummus, or even put nut butter on it. The only prep you need to do to it is peel it. You can find it at almost any grocery store (I've seen it at Hannaford's, Whole Foods, Earth Fare, Harris Teeter, and Publix).
Try it out and let me know what you think!