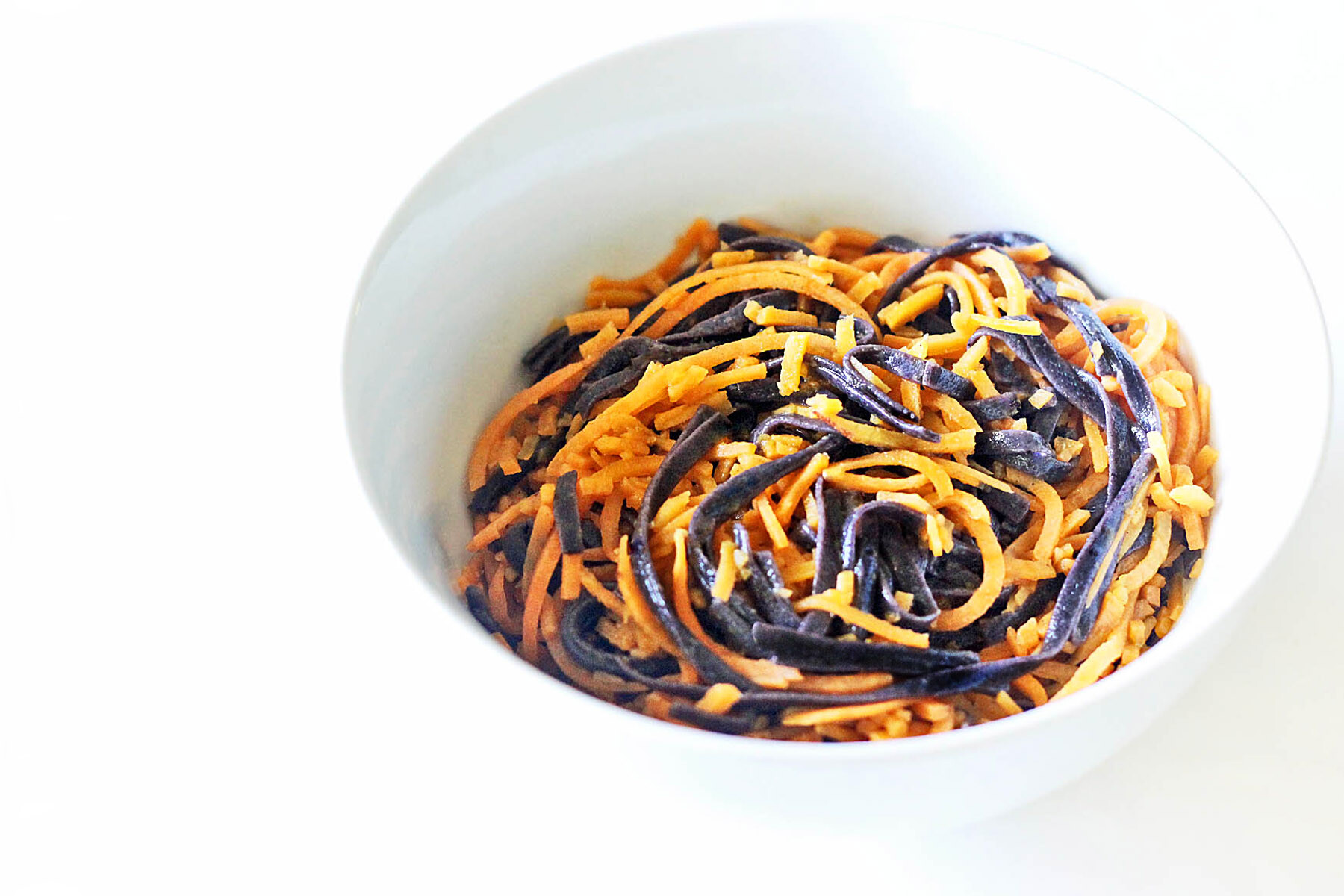 There are SO many Halloween sweet treat recipes floating around the internet, I thought why not come up with a deliciously scary & savory healthy Halloween recipe!
This orange and black pasta can be made with lots of variations. I used a sweet potato to make the orange noodles in these pictures because it's such a vibrant orange color, but I actually liked it better using butternut squash noodles. I use my spiralizer to turn the vegetable into noodles, but you can easily buy them pre-noodled in the produce section at your grocery store.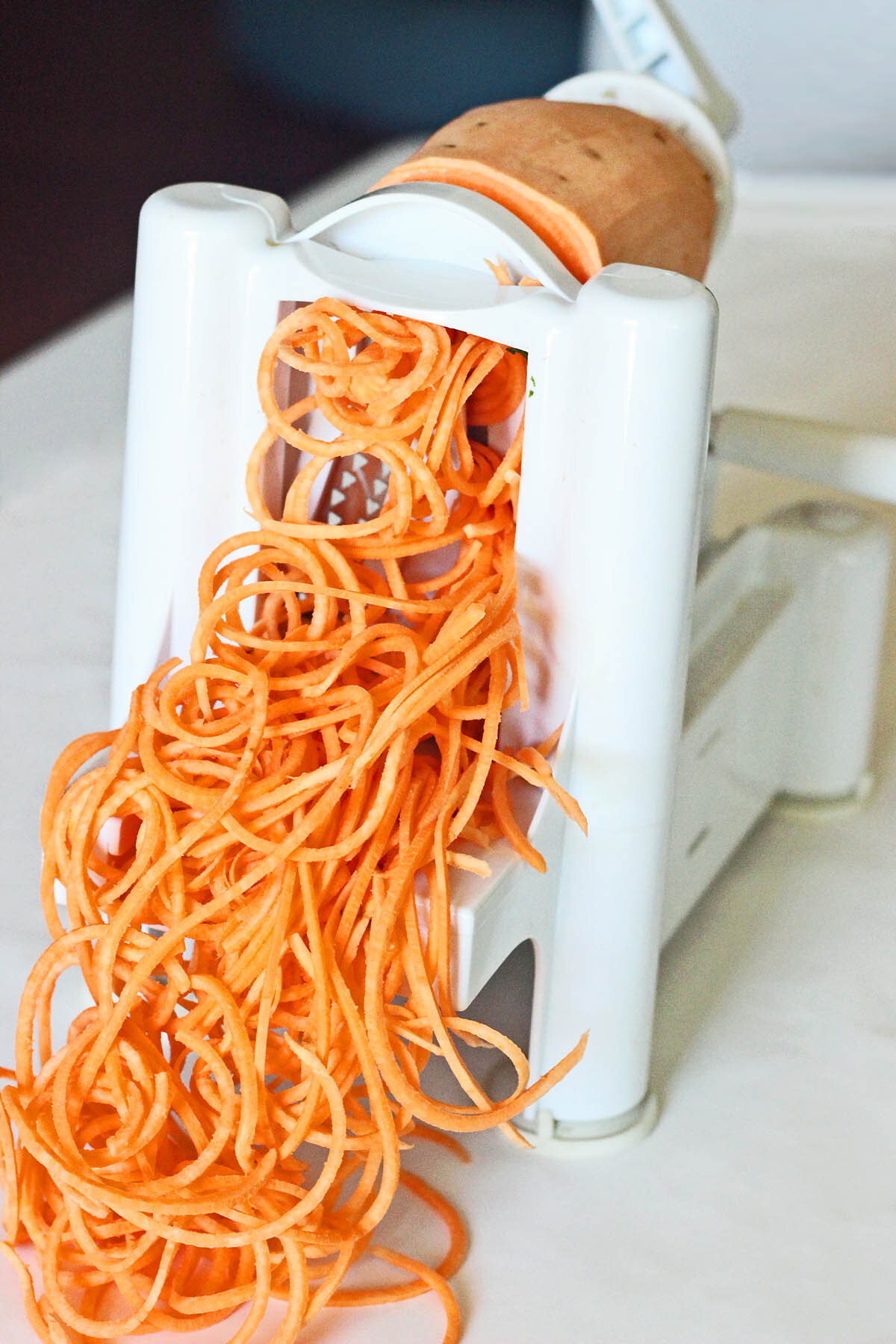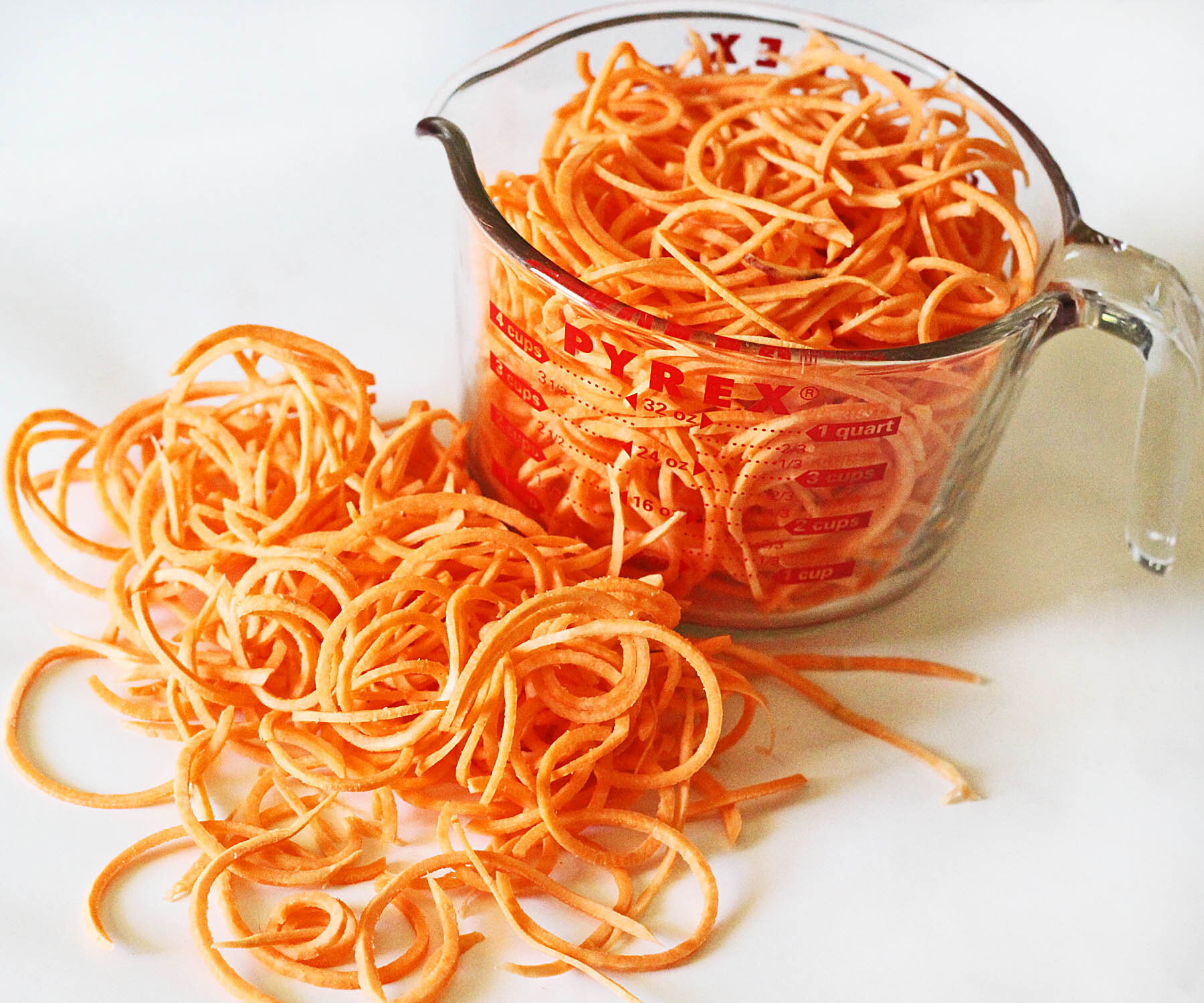 For the black pasta, I used black rice noodles which are naturally gluten-free. You can also use black bean spaghetti if you prefer that flavor and added protein.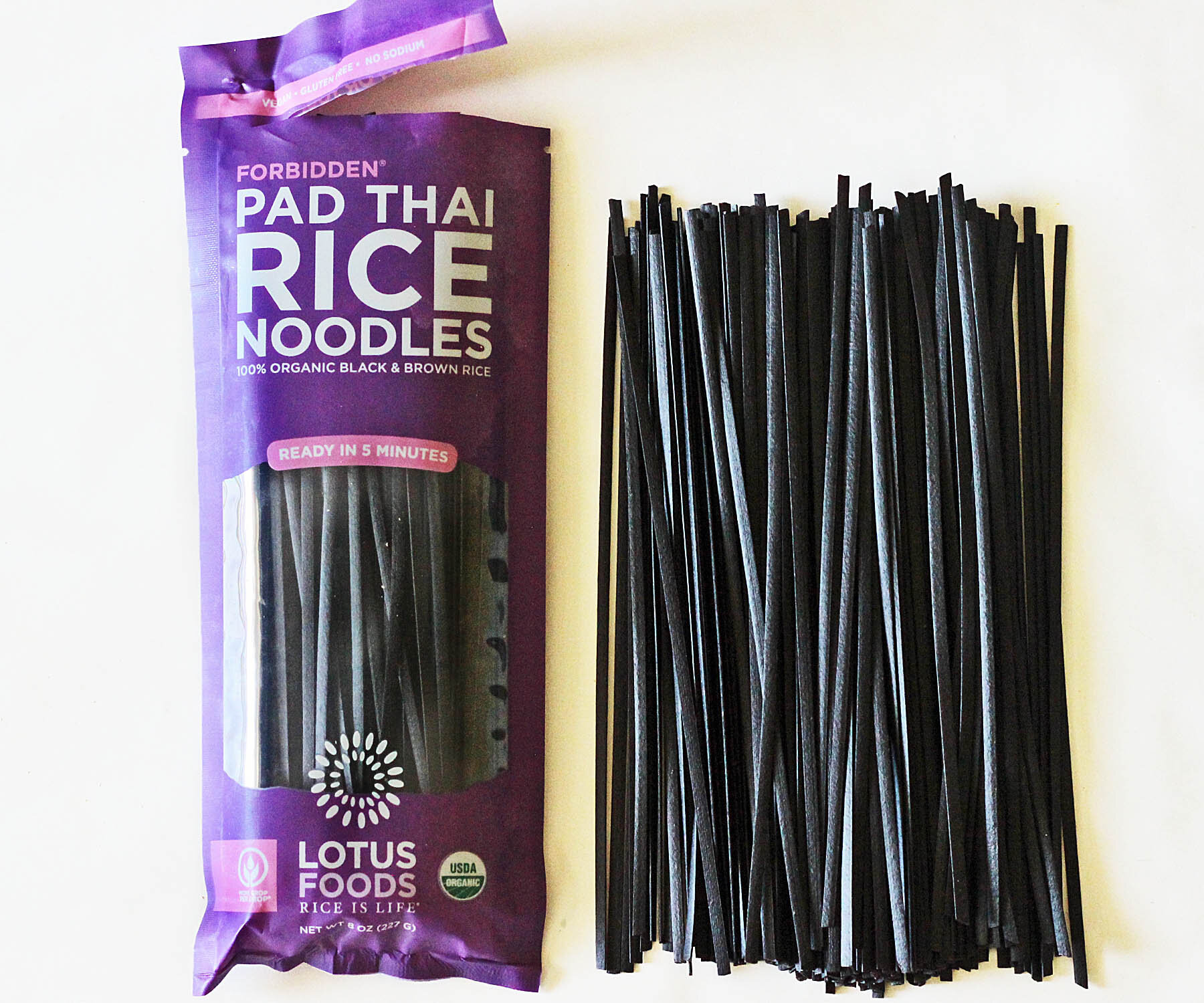 You can use these noodles as the base to any of your favorite dishes, or I included the recipe I made using it below. It's a fantastic meal to serve to your family for dinner Halloween night.
Loading your kids up with healthy fats, complex carbs, and protein before heading out to trick or treat will help them feel fuller longer and may end up eating less candy….may 🙂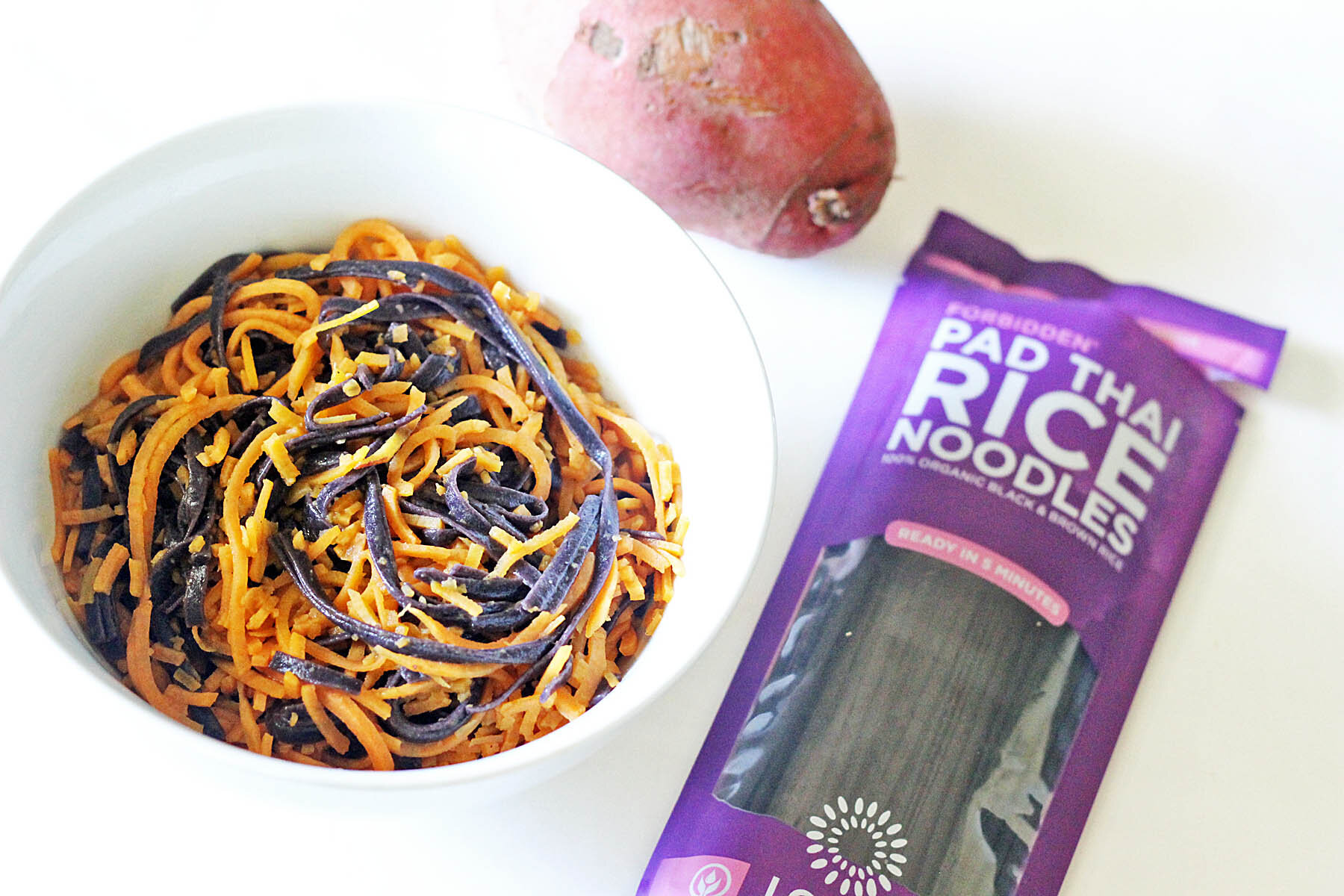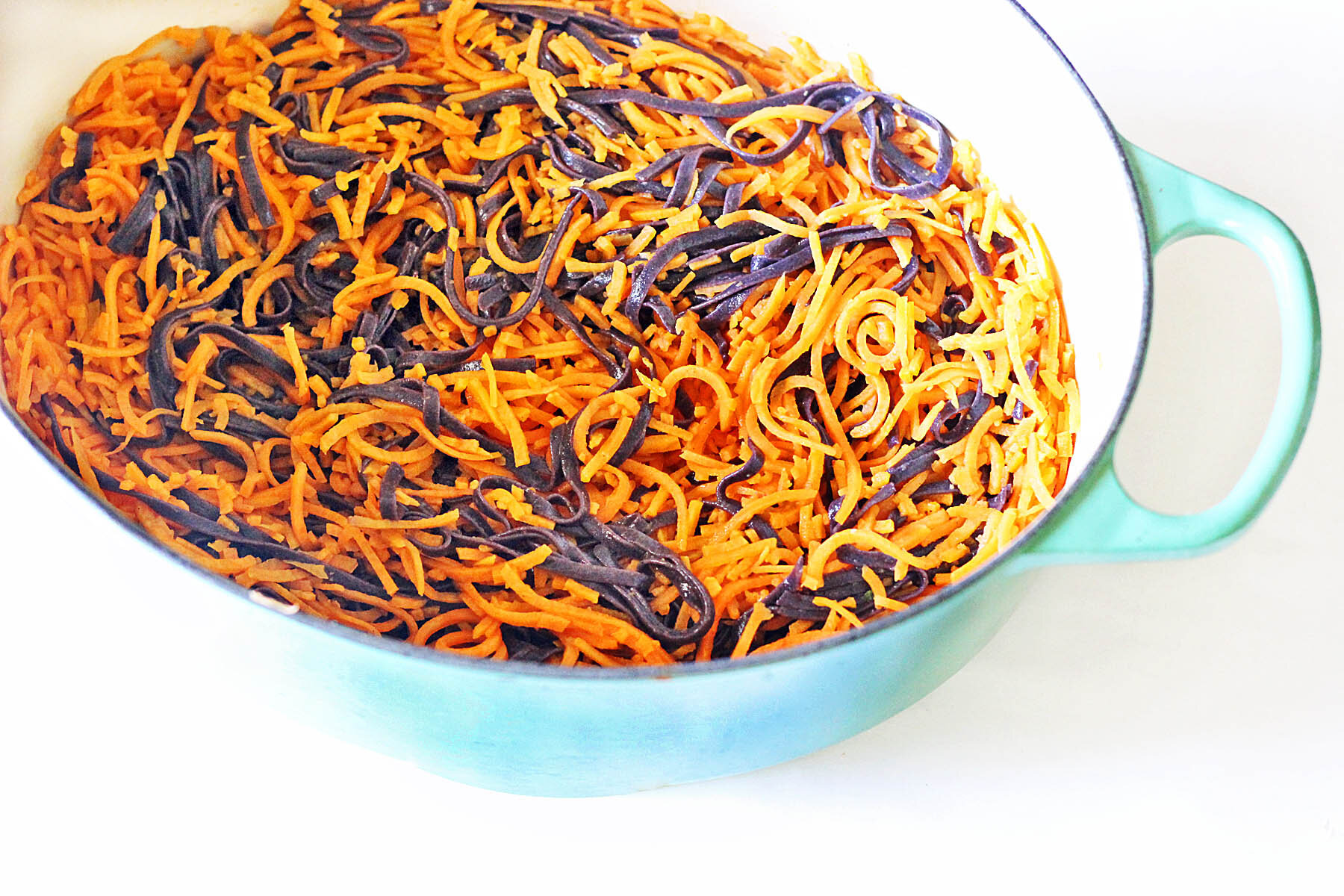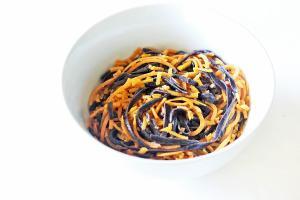 Spooky Halloween Spaghetti Recipe
2017-10-19 05:15:26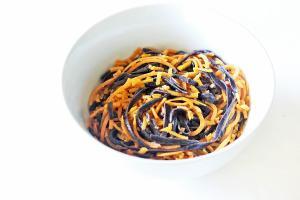 Serves 4
Gluten free, dairy free, soy free, vegetarian, vegan
Ingredients
2 medium sweet potatoes (OR 1 butternut squash "neck"), peeled*
2 servings black rice (OR black bean) spaghetti
Instructions
Use a spirializer to turn the sweet potato (or butternut squash) into noodles.
Place a large skillet over medium-high heat, add in some olive oil and once the skillet is hot, add in the sweet potato noodles. Toss them lightly with pasta tongs and cook for for ~7 minutes or until cooked through.**
Cook black rice (or black bean) spaghetti according to box instructions.
>>> SEE BELOW for a recipe using this Spooky Halloween Spaghetti >>>
Notes
* You can also buy pre-spirialized sweet potatoes or butternut squash 'noodles' for a shortcut
** I'm impatient when cooking the noodles, so I also cover the skillet to let the steam cook the noodles faster
Healthy Eaton https://healthyeaton.com/
When I did this photo shoot for you guys, I also created a Fall inspired recipe around this spooky spaghetti too. It uses all of the flavors I think of when I think FALL! I think you will love it.
I added a lot of vegetables first (whatever I had on hand: onion, zucchini, broccoli, kale)…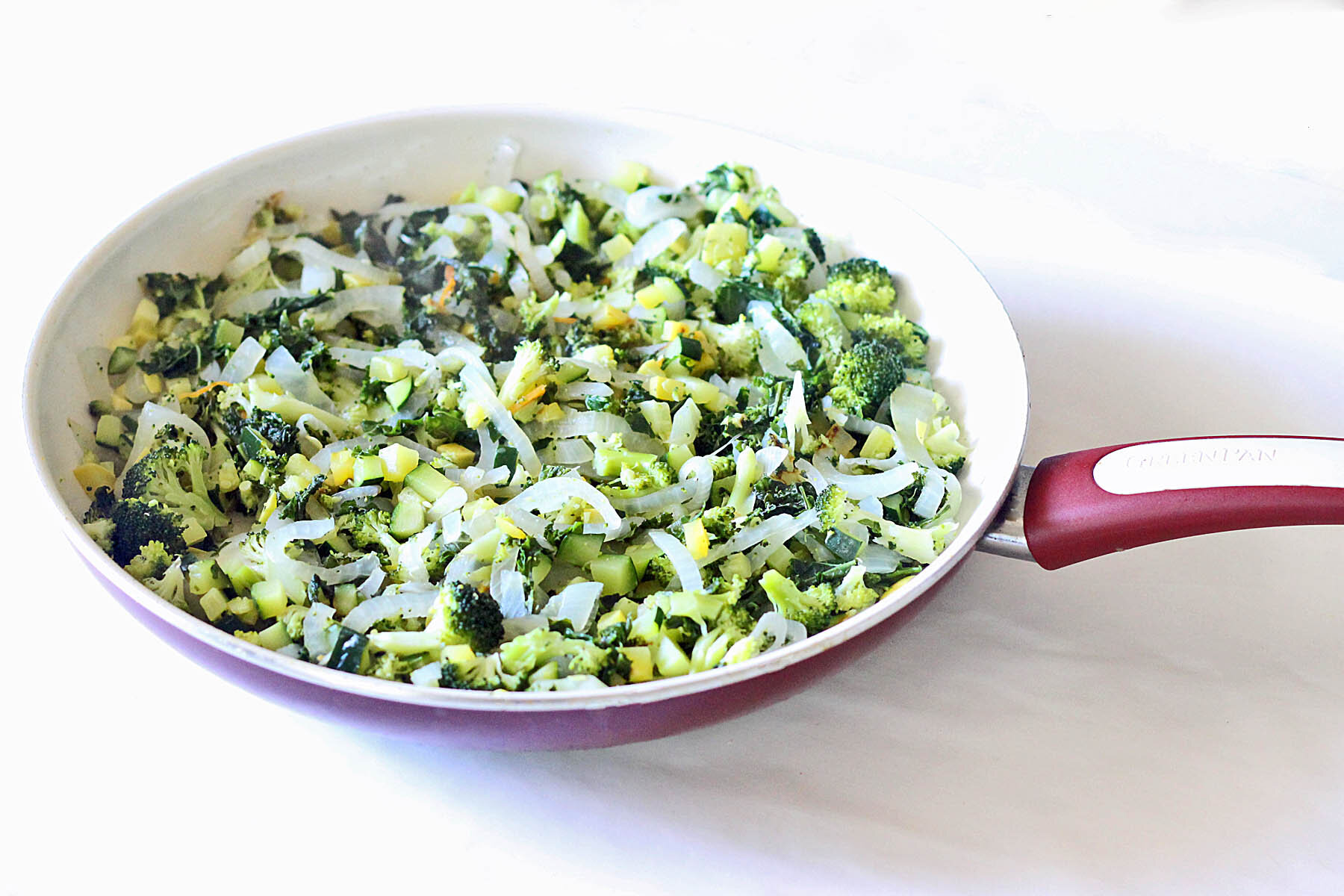 Then created a flavor-bursting mixture to pour on top, mixing olive oil, salt, sage, thyme, rosemary, garlic, and lemon…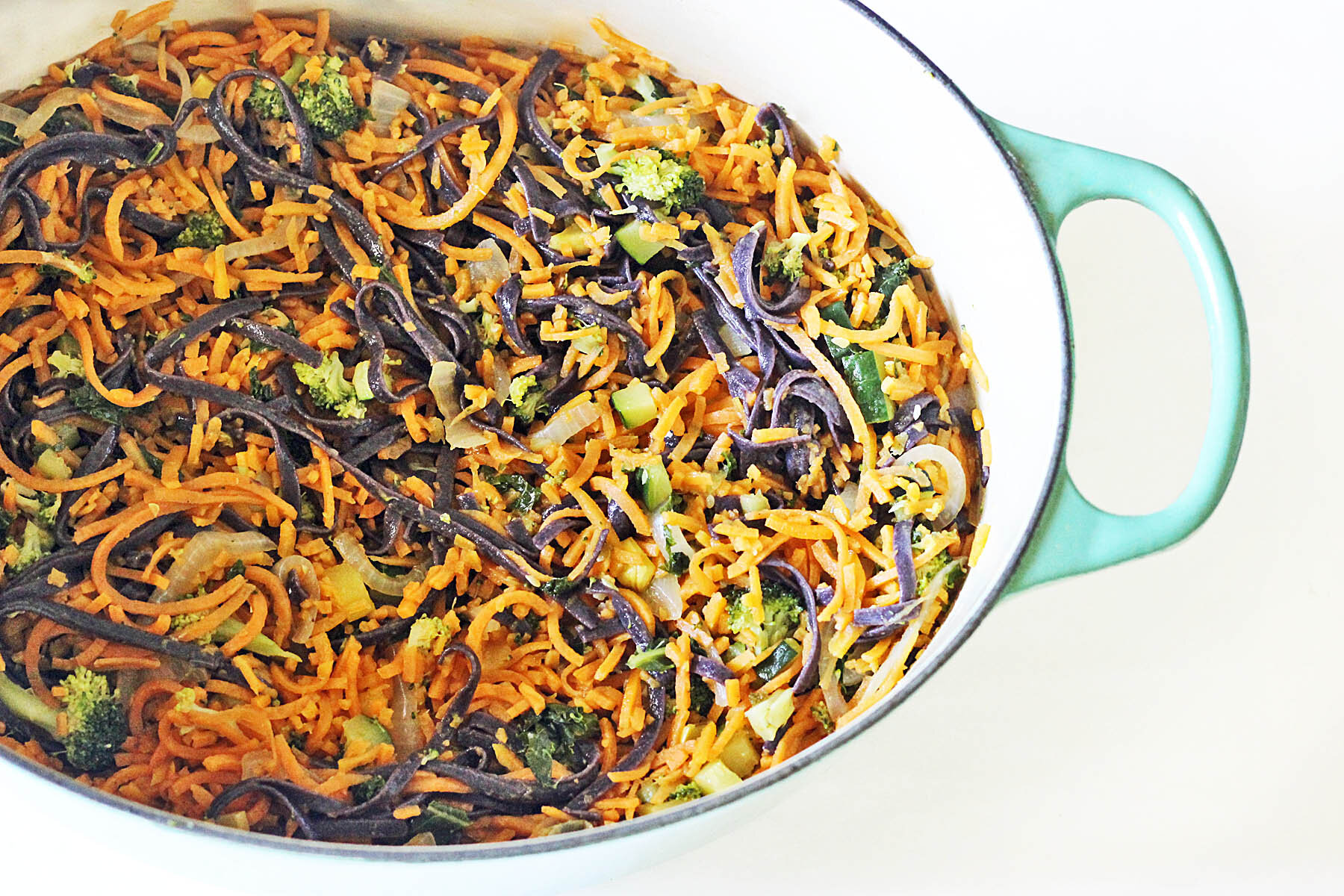 Fall Spiced Halloween Dinner
2017-10-19 05:29:31
Serves 4
Gluten free, dairy free, soy free, vegetarian, vegan
Ingredients
(see Spooky Halloween Spaghetti recipe above)
1 onion, chopped
1 zucchini, chopped
1 bunch broccoli, chopped
4 kale leaves, stems removed, chopped
1/4 cup olive oil
1 teaspoon lemon juice
1 teaspoon sea salt (more to taste)
1/2 teaspoon ground sage
1 teaspoon dried thyme
1 tablespoon fresh rosemary
2 cloves garlic, minced
OPTIONAL: 1 lb meat (I liked ground beef in here more than chicken)
Instructions
In a large skillet over medium heat, add vegetables, a little sea salt, a splash of water, and cover to steam (this will cook them quickly!). Stir occasionally until they are cooked through, about 5 minutes.
(If you are using a meat, cook it now if you have an additional skillet, or once the vegetables are done)
In a small bowl, stir together the olive oil, lemon juice, sea salt, sage, thyme, rosemary, and garlic.
Combine the spaghetti, the cooked vegetables, the meat (if using), and sauce in one bowl or pot. Stir to combine well and coat everything in the seasoning. Serve warm.
Healthy Eaton https://healthyeaton.com/