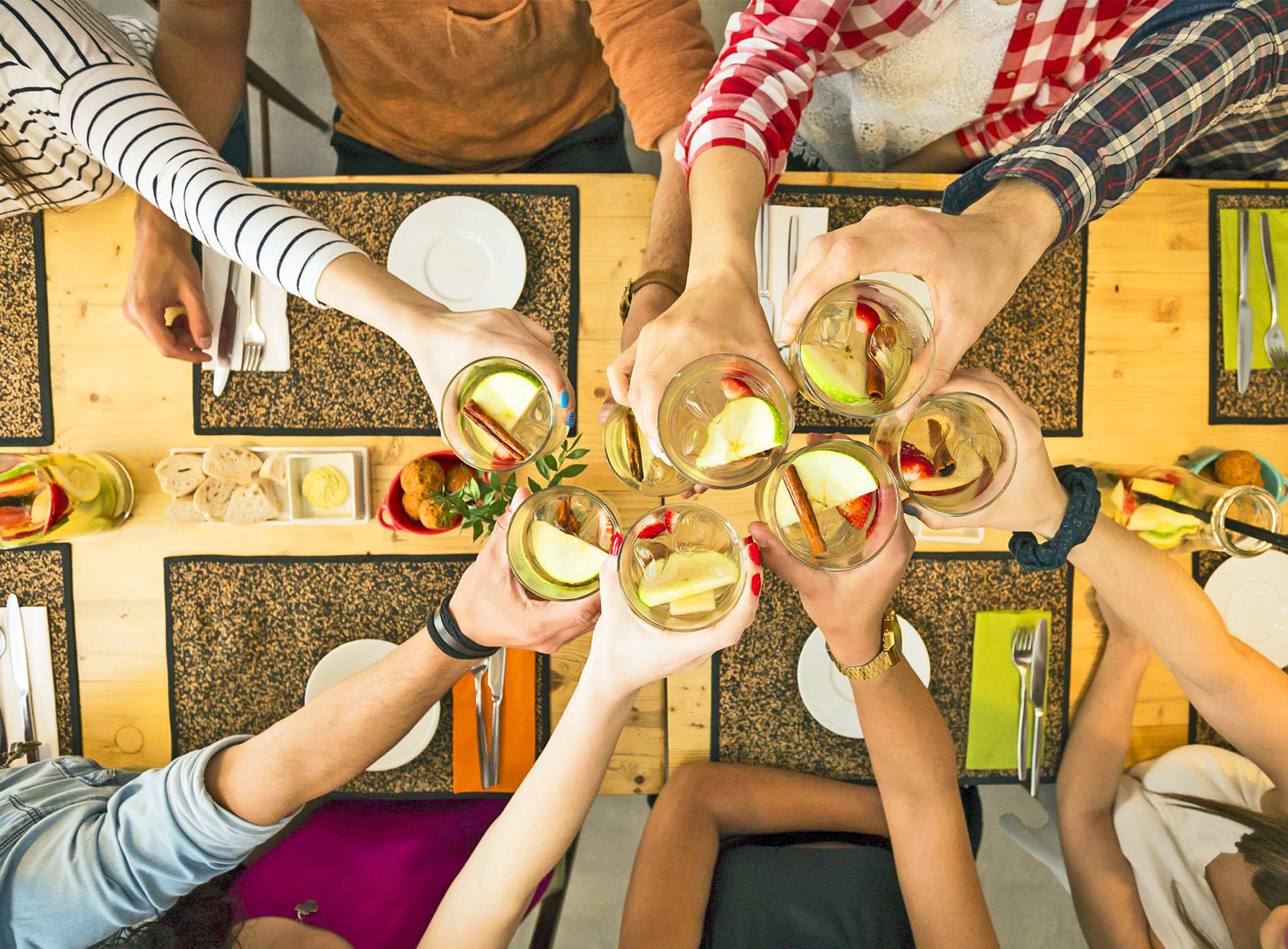 "I ate SO much, I'm never eating again!"
When was the last time you overindulged? Felt like an overstuffed turkey after a holiday feast or party?
How did you feel the next day? Did you want to get back on track to start feeling better ASAP? Or "I'll start again on Monday?"
While it can be super tempting to cut massive amounts of calories or even skip meals in the days after to make up for your overindulgence – that can actually do more harm than good like promoting fat storage and slowing the metabolism.
Below are my top tips to get back on track after an epic day of feasting, PLUS a 1-day reset plan with recipes!
Release the Guilt.

If you do overindulge, release any feelings of guilt. Research has shown that those who owned & enjoyed their food decisions maintained or lost more weight over time than those who beat themselves up over the overindulgences or even just eating something they label "bad".
Feeling guilty about what you eat promotes weight gain because it increases cortisol levels, which triggers fat storage.

Start with a Lemon Elixir.

This is a great habit to have all year round, but especially in the days after an overindulgence. Start your days with a lemon water elixir that has room temp or warm water, fresh lemon juice, and apple cider vinegar (leave out the vinegar if you're too grossed out by it). You can even prep this the night before to save time in the morning.
This elixir is hydrating, detoxifies your cells, stimulates your organs, cleanses your blood, improves brain function, eases aches and pains, aids in digestion, and boosts your immune system.
Piggybacking onto this tip – keep the water intake up all day long. Aim to drink half of your body weight in ounces of water, with an extra glass for each caffeinated beverage you drink.

Have a Balanced Breakfast.

Ideally 12 hours after you ate last the night so your body has a chance to digest and catch up from eating yesterday. Breakfast is a great opportunity to kick the day off on the right foot and balance your blood sugar and hormones, leading to natural healthier choices throughout the day. I love having a smoothie because it's easy to digest so your body doesn't have to work very hard. Include a protein source, a carb source – ideally from fruits/veggies that will also give you fiber, and omit excess sugar where possible.

Move Your Body.

Celebrate what your body can do, don't punish yourself for what you ate – that of course attracts those guilt feelings like we were talking about earlier. Get your blood pumping and release those feel-good neurotransmitters by getting some exercise. Think about what type of movement you would enjoy – like for me I love strength training mixed with interval training, but plenty of clients I work with enjoy yoga, long walks with their dog, or spin class.

Liquify Your Lunch.

Similar to having a smoothie for breakfast, soups, especially blended and broth-based vs. creamy soups, are great to have post-overindulgence. They are easy-to-digest and made with nutrient-rich foods like lots of veggies, herbs, and broth. This will help your body bounce back and start feeling great quickly.

Snack on Whole Foods.

It's important to tune in to your body throughout the day to see if you're hungry, before you all of a sudden get that starving feeling. When we get to the point of feeling hangry, we're more apt to reach for not-so-nutritious convenience foods. So plan ahead and have healthy snacks made with real whole foods ready to go if feelings of hunger creep in between meals. Apple and almond butter, oatmeal with berries and seeds, a fresh juice, or veggie sticks with hummus are great options.

End with Nutrients.

Put a bow on your day of hitting your reset button by having a homemade dinner loaded with nutrients. When you eat out you have no idea what's hiding in your food, and using processed ingredients can also contain chemicals, artificial ingredients, and preservatives that aren't doing your body any favors.
Have cooked veggies be the star ingredient of your dinner – maybe source them from a local produce delivery company like Farm Fresh Carolinas (use promo code: HEALTYEATON to get $10 off your first box!) or The Produce Box. The fiber from the vegetables will help your digestive system work more efficiently. Add to that ingredients like chicken, brown rice, and avocado and you have a delicious and nutritious reset meal.
(Keep in mind – the reset plan below is just a suggested guide. If you know you are allergic/sensitive to any of these foods, please adjust accordingly.)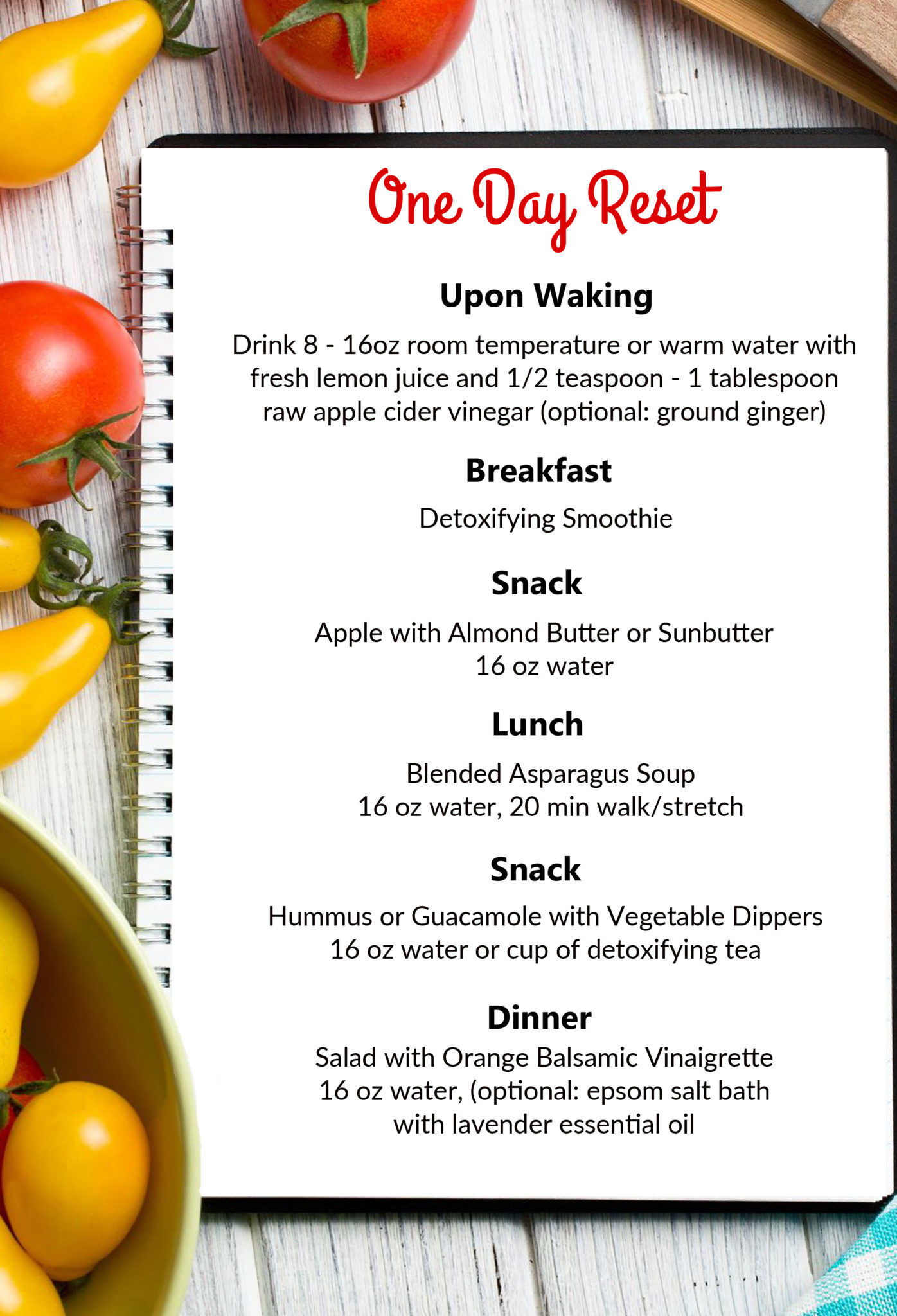 Want 28 days of suggested meals and deliciously nutritious recipes? Click here!