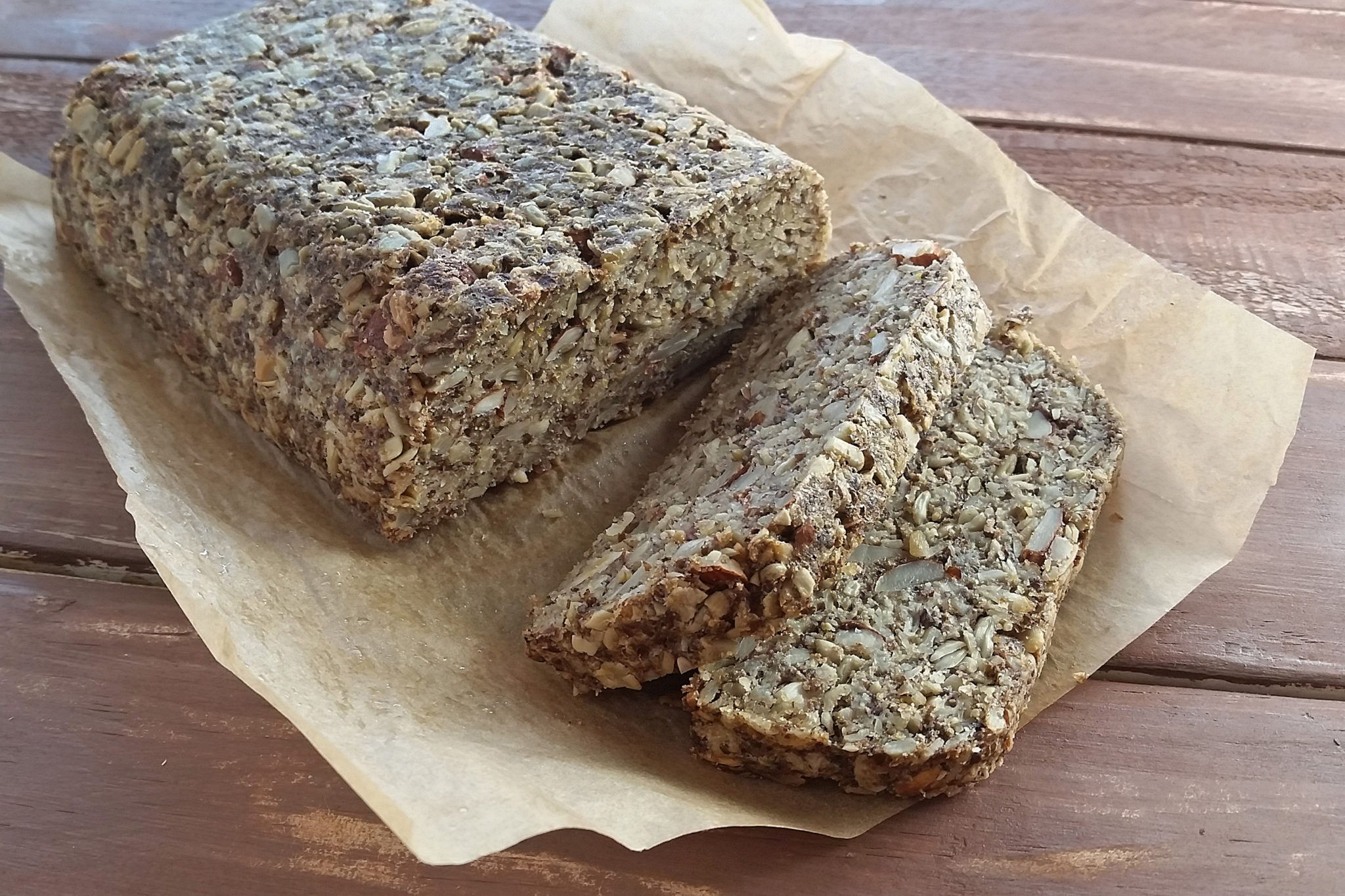 This nut & seed bread recipe is so surprisingly delicious, you'll always want to have some on hand in your freezer! When I found out I had a sensitivity to gluten a few years ago, I switched over to gluten free bread. For those not familiar with bread minus the gluten, it's the type that's kept in the freezer section of the supermarket that needs to be warmed up/toasted to eat. Most of it is pretty flavorless, hard, and dry. Going from light fluffy bread to gluten-free bread was definitely a negative switch (btw the Rudi's brand, multi-grain, is the closest I've come to finding a store-bought closest comparison).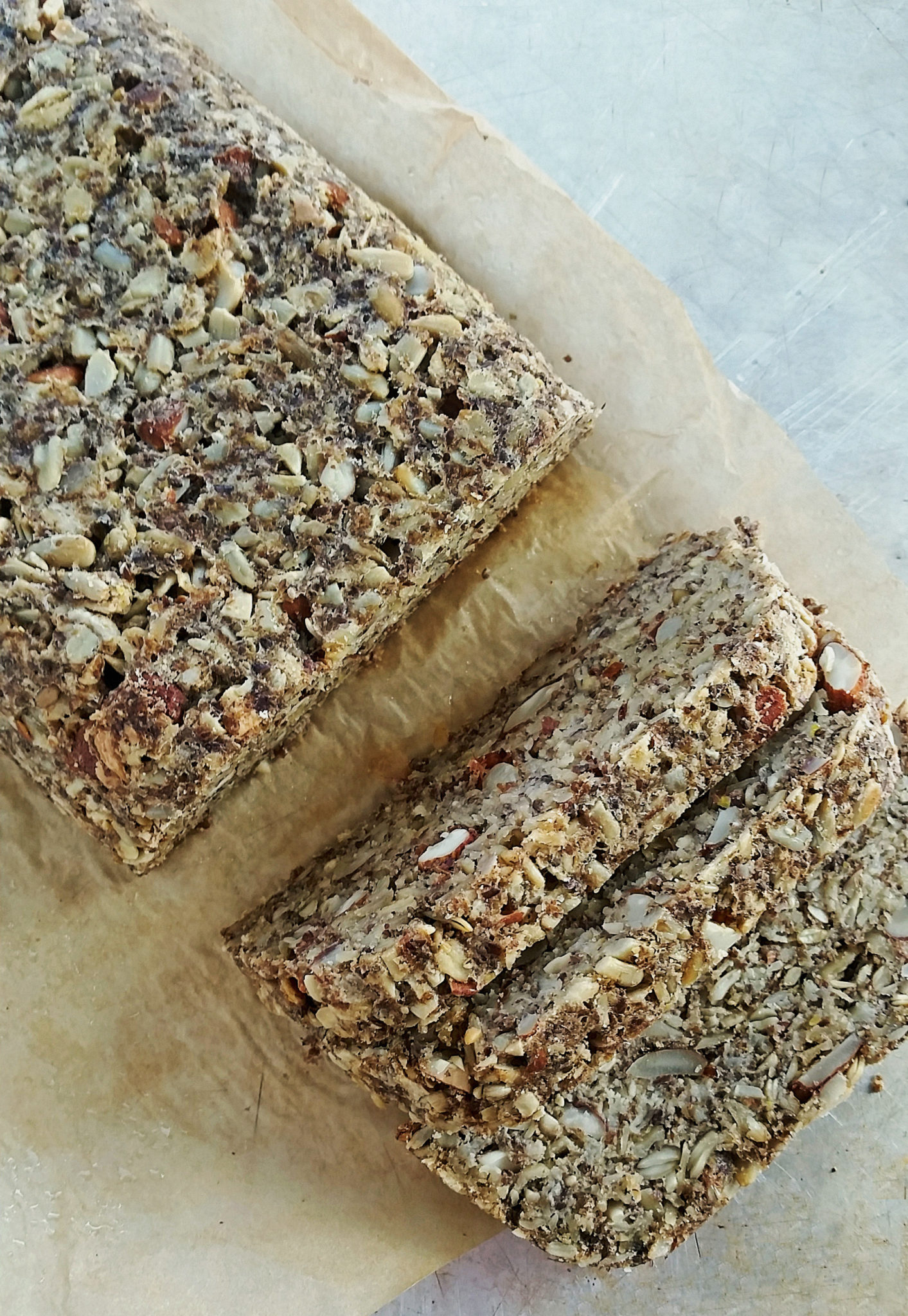 Because of that, I really cut back on the amount of bread I was eating. Then one day I stumbled across "My New Roots – The Life-Changing Loaf of Bread" recipe, and things changed. It looked and sounded so bizarre, but really intriguing. I followed their recipe to a "T" for the first time through. It smelled and looked much different than what I was used to, but I tried it and it really was life changing! I was able to eat a piece of toast FILLED with nutrients, that was really tasty and would keep me full for hours. The texture wasn't soft or fluffy, it was harder and crunchier, but going into it expecting it to be that way didn't make it feel so different.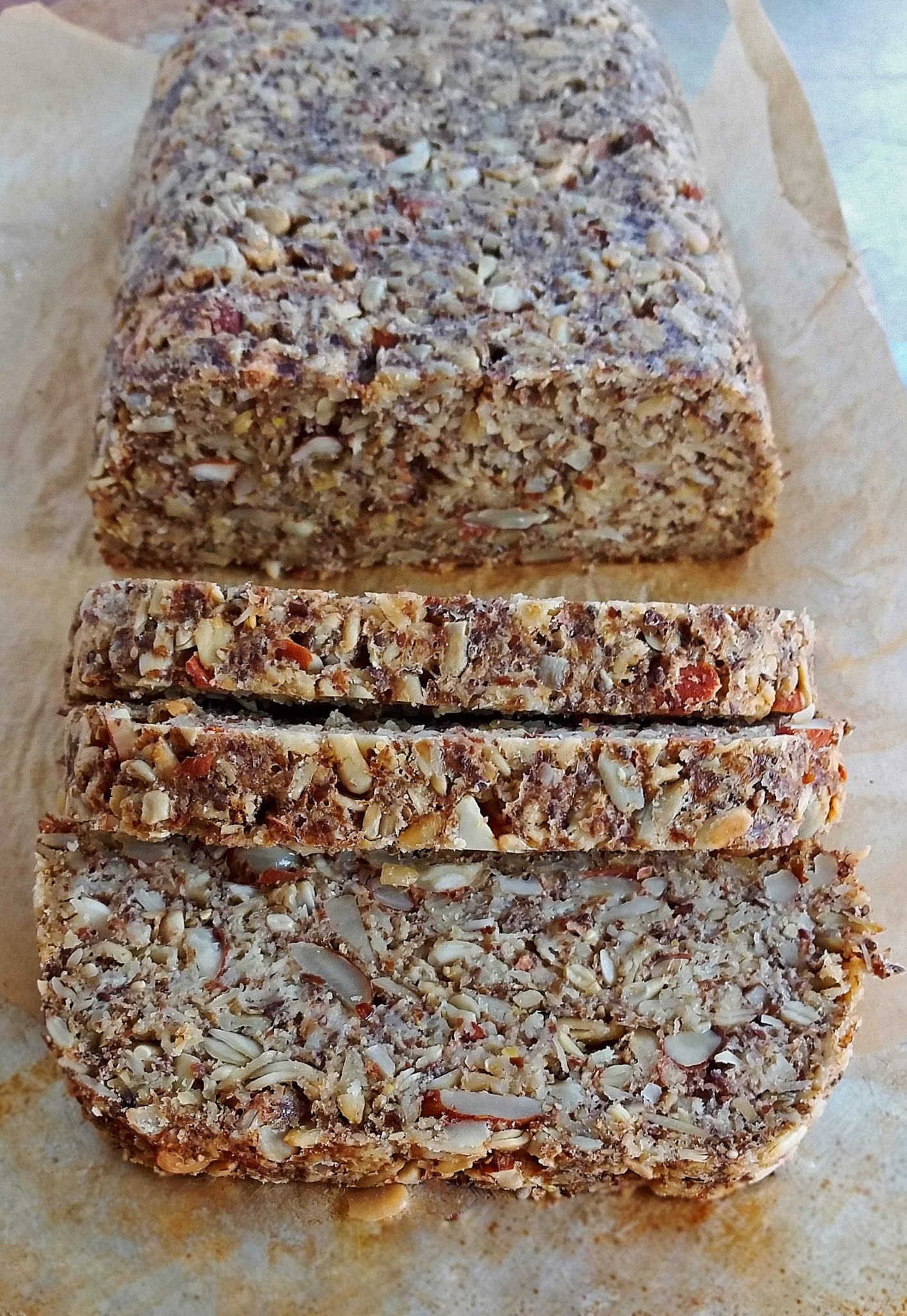 Over the next few months I made many more loaves of the bread, but my recipe and method have evolved over time. Below is my version, and I hope you try and love it too!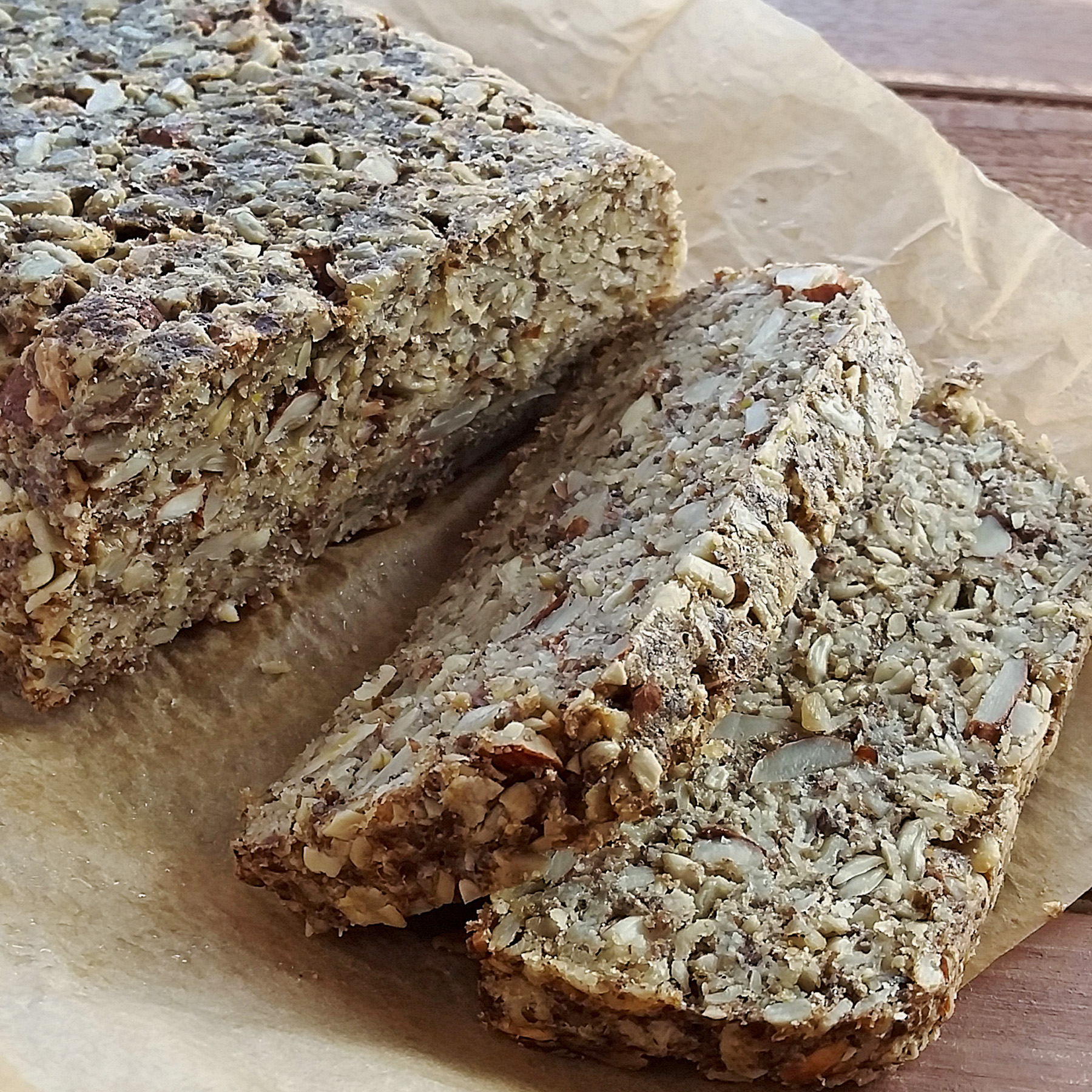 Nut & Seed Bread [Gluten-Free]
2015-02-01 09:57:57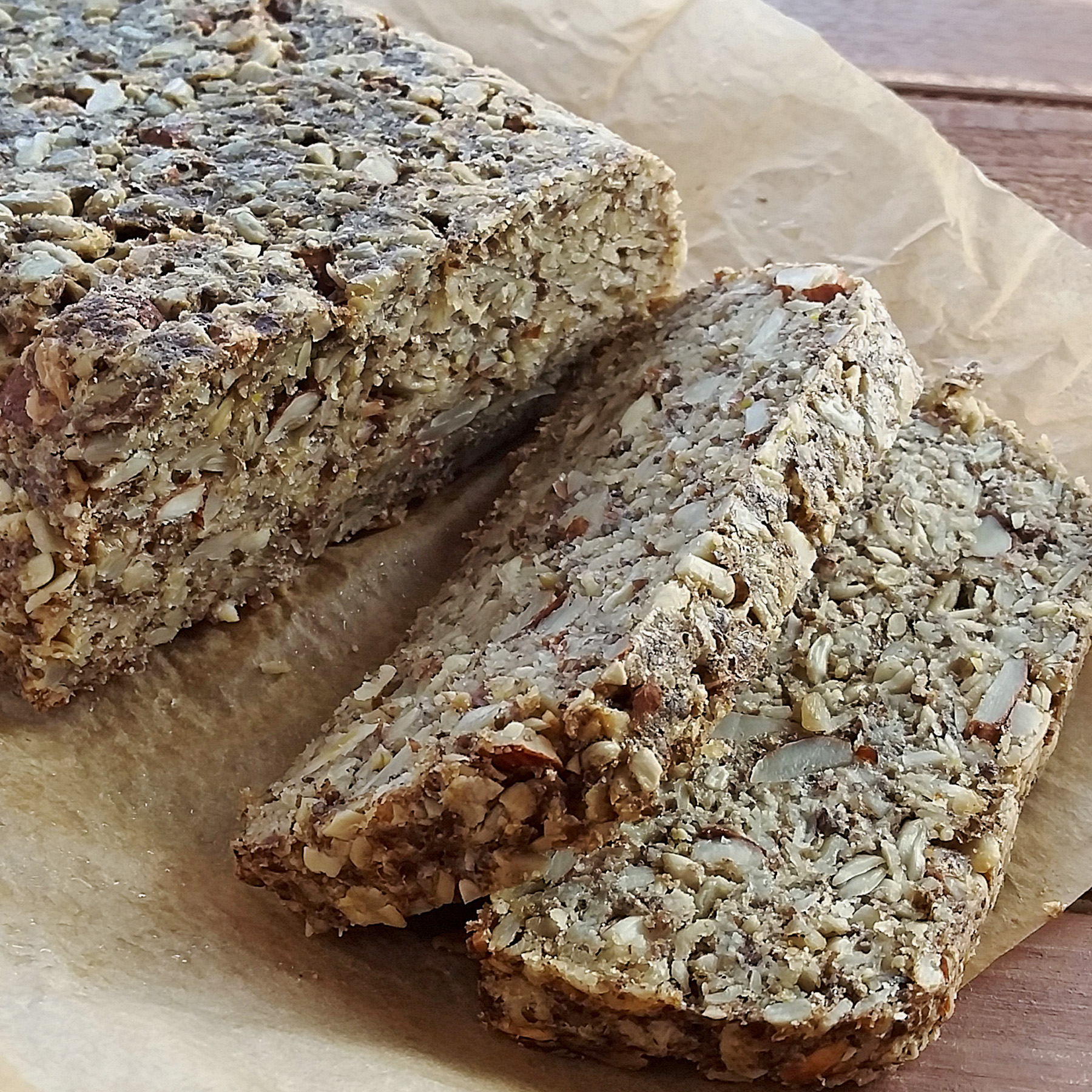 Gluten-free, dairy free, soy free, vegan, vegetarian
Ingredients
1 cup sunflower seeds
1/2 cup pumpkin seeds
2 tablespoons sesame seeds
1/2 cup ground flax seeds
1 cup almonds
3/4 cups rolled oats
2 tablespoons chia seeds
4 tablespoons psyllium seed husks
1 teaspoon fine grain sea salt
1 1/2 tablespoon maple syrup
3 tablespoon melted coconut oil
2 cups water
Instructions
Preheat oven to 350°F In a food processor, add the almonds, pumpkin seeds, sesame seeds, and oats. Process either slightly so the almonds are crushed or process longer until ground into a powder (texture preference, I like to leave the almond pieces bigger).
In a large bowl, add the mixture from the food processor, along with the other dry ingredients, and stir well to combine. In a separate smaller bowl, add the maple syrup and water, and whisk to combine. Add this to the dry ingredients and mix very well until everything is completely soaked and dough becomes very thick (if the dough is too thick to stir, add one or two teaspoons of water until the dough is manageable).
In a lined bread pan - standard size 9x5 (I like to use parchment paper, well greased or a silicone bread pan), pour the dough mixture into the pan, and smooth the top with a spatula or spoon. Let sit on the counter for a minimum of 3 hours, up to all day or overnight.
Place loaf pan in the oven on the middle rack, and bake for 30 minutes. Remove bread from loaf pan, place it upside down either directly on the rack or on a cookie sheet, and bake for another 30-40 minutes. Bread is done when it sounds hollow when tapped.
Let cool completely before slicing! Store bread in a tightly sealed container for up to five days. I like to slice it and place the slices on a parchment-lined plate to freeze them, then add the frozen slices to a Zip Loc bag for easy re-heating in the toaster.
Healthy Eaton https://healthyeaton.com/