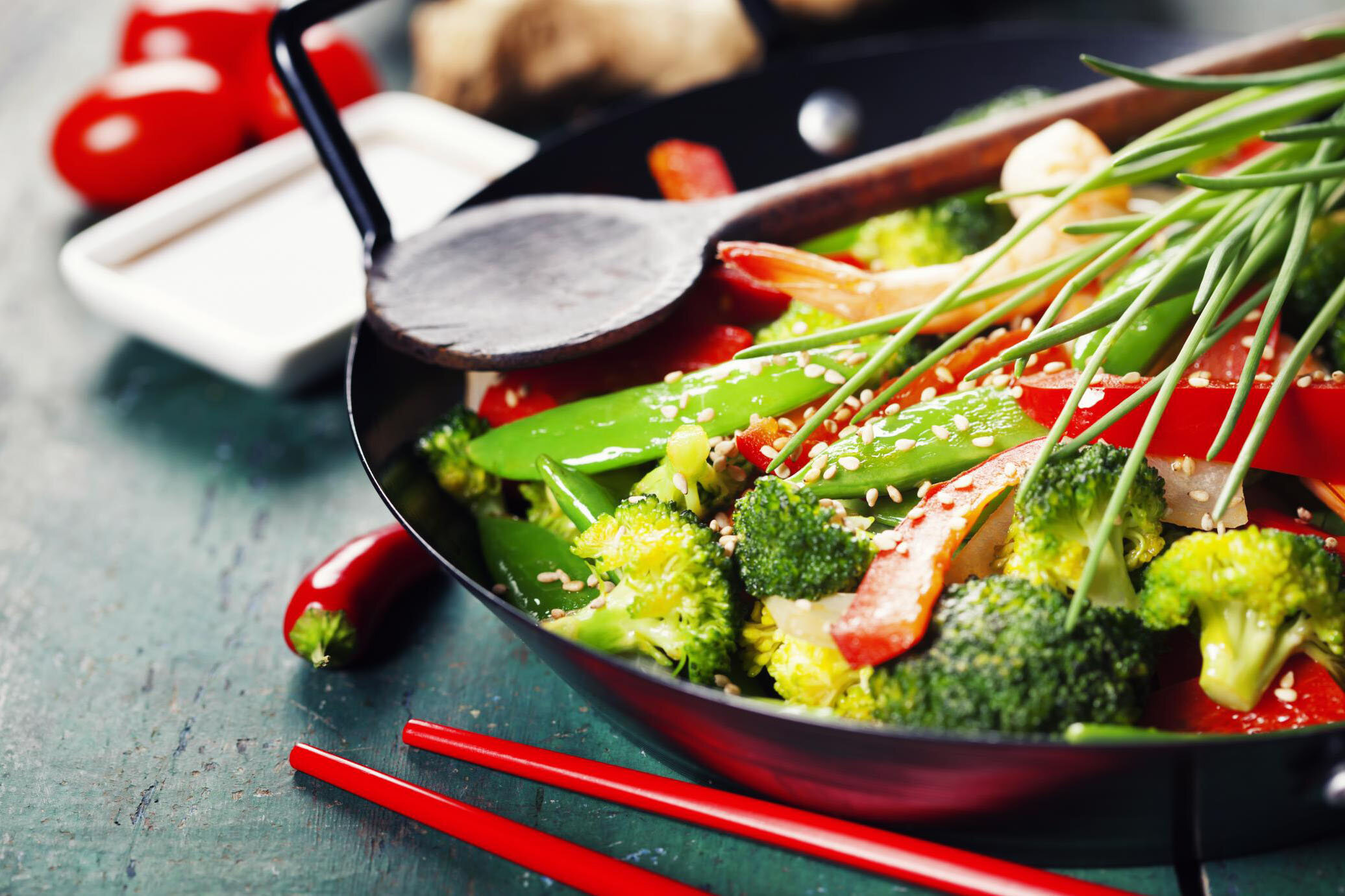 Eating out at restaurants does not have to work against your health and fitness goals…especially when hitting up delicious types of internationally-inspired restaurants like Mexican, Italian, Mediterranean, and Indian cuisine.
Eating foods from different cultures helps to actually combat "healthy eating fatigue/boredom" or "food funk" (when you get sick of eating the same foods or types of foods/flavors over and over again) by introducing you to a wider variety of healthy options!
Prefer watching videos over reading? Click below to watch my segment on Charlotte Today talking about this very topic!
Read on for ideas on what to order at some most popular international restaurants, and click here for some specific restaurant recommendations if you live in Charlotte, NC.
Mediterranean
Start your meal with a hummus appetizer to get a foundation of protein and fiber to start filling you up, then order your food on sticks!
Kebabs are a fantastic healthy option, lean protein with vegetables and rice – easy on digestion. Also, hummus and grain bowls are a yummy choice too.
Japanese
Fish, rice, and vegetables – the staples of a Japanese diet. Lucky for you, most of the menu items are steamed, boiled, or raw! For an app, good options are edamame, seaweed salad, or miso soup. Most Japanese sauces are loaded with salt, so request low-sodium soy sauce and ask them to use light sauce or get it on the side.
Skip the tempura fried items and opt for brown rice over white rice. Eat the entire meal with chopsticks to slow down your eating and allow your stomach to have time to realize it's full, reducing overeating.
Mexican
Take the healthier route by skipping the chips and queso (or if you do want chips, dip them in guacamole instead), swapping your taco shells for lettuce wraps, and if you want something saucy — ask for sauce on the side to add it yourself.
For a starter, I like a salad (no cheese/bacon/chips), add avocado, and use olive oil/lime juice for a 'dressing' or ceviche. For an entrée, lettuce-wrapped tacos, a burrito bowl, or fajitas (no oil).
Chinese
Start with spring rolls and for an entrée, check out the "Steamers" section of the menu to order steamed protein (chicken, beef, shrimp, etc) and vegetables, then for flavor, get your favorite sauce on the side to lightly dip. Opt for brown rice instead of white rice for more fiber and nutrients.
If you want to "healthify" a traditionally unhealthy dish, like General Tso Chicken (loaded with sugar and sodium, and uses fried chicken) ask for the chicken to be steamed and sauce on the side for dipping.
Korean

You'll see a wide variety of fermented items on the menu, which are superfoods for keeping your gut bacteria well-fed and in tip-top shape … which keeps your digestive system strong, improves your immune system, and can aid in weight loss.
To start, try a tasty soup or stew like samgaetang, jjigae, or seollangtang. For an entrée, bibimbap or bulgogi are great choices. Be sure to get some kimchi too!
Thai
Start your meal with a soup like tom yum or a small cup of coconut-milk-based soup like tom kha gai, spring rolls, or satay.
For your entrée, you'll find tons of stir fries on the menu. Be mindful of fried and overly-saucy dishes, as well as portion sizes. Usually with pasta-based dishes, you'll get a LOT, so pre-box some up for later. Order brown rice instead of white when possible.
Vietnamese

You'll see lots of fresh herbs, vegetables and seafood, healthy fats in the form of coconut-based sauces and cooking techniques that use water or broth instead of oils on the menu. For an appetizer, start with spring rolls, and for an entrée, order pho or goi tom.
Italian
Skip the rolls (or if you do want rolls, spread real butter on them), avoid cream-based soups and sauces and opt for broth-based or tomato-based, and avoid ooy-gooey cheesy dishes.
Start with a cheese-less salad (dressing on the side) or minestrone or mussels. For your entrée, a tasty more traditional route would be pasta primavera (add protein) or cacciatore. Since servings are usually HUGE, box half up before you start eating.
You could also get a protein and veggie, like a steak and roasted vegetables on the side.
Indian
Some buzz-words to look for when ordering your appetizer or entrée that are nutritious and delicious: tandoori, masala, dal, baingan bharta, and kebabs.
Opt to pass when you see: paneer and malai (cheesy/creamy), masala, samosas, dum aloo and naan. Feel free to enjoy some rice or roti with your meal, but be conscious of the serving size.